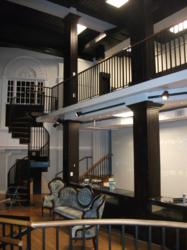 While the space itself is impressive, it's the Ava Laurénne Bride philosophy of service that sets a new standard of excellence for bridal shoppes.
Fredericksburg, VA (PRWEB) May 29, 2012
When it comes to bridal shoppes there's nothing quite like Ava Laurénne Bride, where the search for the perfect bridal gown becomes the memory of lifetime. Located in a restored historic theatre in downtown Fredericksburg, this bridal salon boasts a breathtaking, two-story space with a stunning spiral staircase, sweeping velvet curtains and a timeless elegance rarely found anywhere else. 
The space itself is quite impressive, but more than the space, their philosophy of service sets them apart from the average bridal shop. "Every appointment that is made at Ava Laurénne Bride is treated like its own, magical, memory-making event," says shop-owner Wendy Rivera."We want every bride that comes through our doors to leave not only feeling like she's gotten the wedding gown of her dreams, but that she's made a beautiful memory that will last her a lifetime." 
Wendy's sister, and Co-owner, Christy Stutzman added, "We believe in personalized service, and that every bride should be treated like royalty. To us, the experience itself is just as important as getting that perfect dress." The staff at Ava Laurénne Bride are well qualified and take special care to guide their customers in finding the perfect gown, jewelry and accessories. 
Ava Laurénne Bride carries a number of designers (Justin Alexander, La Sposa, Allure Couture etc.) You can see a full list of all of their designers ere. Besides the lines of gowns, Ava Laurénne Bride also carries some rather impressive accessories for weddings or any special occasion. Linda Lee Pratico's hand-made jewelry pieces are as beautiful as they are unique. Shoes by Love, Miranda Marie are one-of-a-kind creations transforming shoes into works of art. Miranda hand-paints her designs directly onto each shoe she produces, and her work can only be found at Ava Laurénne Bride. 
The Virginia Bride Magazine Bridal Expo will feature Ava Laurénne Bride as it's exclusive fashion show sponsor in June. You can see more information about the Expo and Fashion Shows that will include Ava Laurénne Bride ere. For further information on this unique bridal shoppe in Old Towne Fredericksburg, VA, visit Ava Laurénne's  ebsite. The shoppe opens June 4th, and will be hosting special "trunk shows" from two of their designers during the week of June 11th. Ava Laurénne Bride is also announcing that they will be featuring specials during their opening month of June 2012. The shoppe also offers an exclusive, after-hours appointment - an unforgettable, completely personalized shopping experience called the "Princess Treatment Package."  It is a great gift that any bride will cherish for the rest of her life. More information can be found here. .