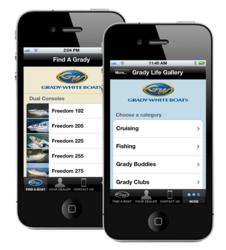 Our Grady Life iPhone app users can get a sense of the genuine fun that owning a Grady-White provides.
Greenville, NC (PRWEB) May 23, 2012
Grady-White owners and enthusiasts can now get performance data and specifications for all current models along with walkthrough and lifestyle videos, direct dealer and company contact information, GPS controlled local coastal weather, tide and inlet tables, instantly accessible boating safety and assistance links, plus a taste of the Grady owner's pleasurable boating experience all at the touch of a screen with Grady-White's newly released Grady Life iPhone app. The new iPhone mobile application is available free through http://www.gradywhite.com or via the Apple Store searching Grady-White Boats.
"With more and more of our customers using mobile devices–many of them iPhones–it is time to introduce our own iPhone application aimed at providing accurate up-to-the minute information about our products plus features and links that enhance the ownership enjoyment of the experience we call the 'Grady Life,' " says Joey Weller, vice president of sales and marketing at Grady-White Boats. "We've included Grady Owners' Clubs contacts, dealer and club events calendars as well as a customer photo gallery and links to our social media presence on Facebook, Twitter and our YouTube channel."
"Here's a one-stop shop for all things Grady-White," says Shelley Tubaugh, Grady-White vice president of market research and relationship development. "Our new Grady Life iPhone app puts the on-the-go customer in touch with his or her Grady-White dealer and with us here at the company, and provides relevant information specific to exactly where the user is located. What's more, iPhone users can get a sense of the genuine fun that owning a Grady-White provides. We think this is one more example of Grady-White being the ultimate in boating satisfaction."
Established in 1959 in Greenville, NC, Grady-White currently builds 27 models of saltwater-tough, versatile, high quality center console, dual console, express and walkaround cuddy cabin sportfishing and coastal family boats from 18 to 36 feet (5.49 m to 10.97 m). Grady-White is historically renowned for being highest rated in customer satisfaction in its category by every third party study ever done in the marine industry. Marine Industry Hall of Fame member Eddie Smith and the Smith family have owned the company since 1968.