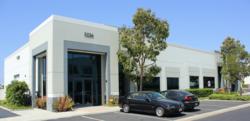 New Office And Warehouse Facility For Pacific Play Systems, Carlsbad, CA
(PRWEB) May 23, 2012
Pacific Play Systems, leading supplier of commercial playground equipment in southern California, acquired and relocated its headquarters to 3226 Grey Hawk Court, Carlsbad, CA 92010. Prior to the recent move, the company leased a smaller facility at 3142 Tiger Run Court, Carlsbad, CA 92010. Pacific Play Systems has more than tripled its floor area, which includes office and warehouse space. The new facility will improve the effective delivery of customer service throughout southern California.
Company President, Ali Bemanian explains that the new larger warehouse can store several dozen commercial playgrounds. The storage facility gives Pacific Play Systems a competitive advantage, making it possible to handle the bulky goods of playground equipment for large projects, while serving multiple customers. Bemanian adds that the company is experienced with large projects, having completed several multi-million dollar projects, which is unusual in the commercial playground equipment market. Bemanian reports that the seasonal strategy for timing the move was critical as Pacific Play Systems is scheduled to have a busy summer with commercial playground equipment projects throughout southern California, in: San Diego, Orange, Riverside, Imperial, San Bernardino and Los Angeles counties. These projects are either already in progress or in the planning stages.
Aside from the new facility upgrade, Pacific Play Systems has added two new playground equipment designers: one with a Bachelors Degree in Architecture and the other with a Bachelors Degree in Visual Arts. Bemanian, the company President has an educational background in architecture with expertise in manufacturing, construction, and commercial playground equipment design. With such extensive knowledge of the business market, Bemanian works closely with the company staff to create outstanding designs for playground equipment projects. Pacific Play Systems has won several key commercial playground equipment projects this year, including a prestigious playground project at US MCB, Camp Pendleton, CA. Pacific Play Systems also earned a high score of 98.2% in a recent design build competition for a playground equipment renovation project at a major park for the City of San Diego; this is presently in the planning stage.
In addition to working closely with the design staff at Pacific Play Systems, Bemanian creates outstanding designs by closely collaborating with designers and engineers at Playcraft, a west coast leading manufacturer of commercial playground equipment. Pacific Play Systems and Playcraft have a strategic geographic business relationship that benefits their customers.
About Pacific Play Systems, Inc.
Located in Carlsbad, CA, Pacific Play Systems, Inc. specializes in commercial playground equipment design and installation. The company has installed for parks, schools, preschools, HOAs, military bases, and churches throughout southern California: including San Diego, Orange, Riverside, San Bernardino, Imperial, and Los Angeles counties. As a full service playground equipment company, Pacific Play Systems provides clients a complete package, where site evaluation and custom design are offered at no cost or obligation. Pacific Play Systems holds several construction licenses that allow it to deliver a complete turnkey project from design through installation. In addition to its state-of-the-art Playcraft commercial playground equipment, Pacific Play Systems offers a wide variety of shade structures, sports equipment, soft-contained indoor playground equipment, water park equipment, playground safety surfacing and site furnishings.