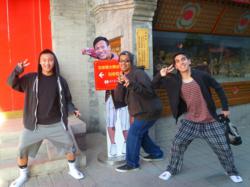 "The trip made China real for me," said Isadora Mack, an eleventh grader at Berkeley High School. "Before it was just another place on the map, but the trip made me think about China as a place—not just a sort of abstract idea."
San Jose, CA (PRWEB) May 22, 2012
Sino Language Gateway (SLG) successfully exposed American students to Chinese culture through customizable school trips built around school learning objectives and full cultural immersion. SLG partnered with schools in the United States to design trips tailored to the educational needs of their students and to compel students to be culturally engaged in a local context.
Schools across the U.S. have often offered students trips to a country abroad during spring break or summer vacation, but trips have traditionally been dedicated to countries reflecting the language courses popularly offered in schools, such as Spanish and French. However, with China's rapid growth into the world's second largest economy in the world, the demand for English-Chinese bilingual abilities has attracted more U.S. students to study the Chinese language in and out of the classroom. That's when SLG responded to conversations and interactions with teachers elevating the need for customizable school trips to China.
SLG has worked with schools in California, Tennessee, New Jersey, and even schools across international borders such as Jakarta International School of Indonesia to design 10-15 days trips based off of SLG's rich experiences organizing its summer camp programs. SLG takes into account each school's available days for travel, their preferred cities to visit and the allocated budget to build the most customizable experience. Mostly importantly, SLG has remained attentive to the specific needs of students by forming each trip with a complete understanding about the school's educational objectives.
The main principle of the trips is to leverage the Mandarin skills students already possess to enhance the cultural experience. Being surrounded by Chinese culture had a tremendous affect on the students, which was pleasantly apparent to their teachers.
"I think the most impressive thing was seeing our seventh grade students speaking in Mandarin every single day," said Liz Paz-Rumore, Director of Student Affairs at Quarry Lane School. "They really seemed to reach out to try to understand the amazing history, beauty and nuances of the culture around them. In return, everyone we encountered was very welcoming, warm and friendly."
Not only are students there to practice their Mandarin or learn about Chinese culture, but they are able to interact and participate with the locals through volunteer work, school visits, exchange activities or even shadowing a local student to experience the average day of a Chinese student.
After such an immersive cultural journey, 80% of participants said that their Chinese improved during the trip. Although a much shorter trip in comparison to SLG's core summer camp program, the SLG-customized school trips turned out to be more than what most students expected. With the vast amount of learning to be done in China, they will have to wait for their next trip to China to explore more of the fascinating cultural experiences China has to offer.