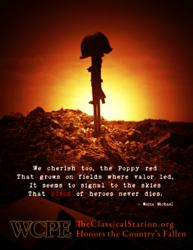 May these men and women who gave their lives rest in peace.
Wake Forest, NC (PRWEB) May 21, 2012
Dick Storck, Program Director for WCPE, TheClassicalStation.Org and former announcer for the American Forces Thailand Network, a division of the Armed Forces Radio and Television Service (AFRTS), invites listeners across the country to remember those who have given their lives for America. Through music, WCPE will remember and memorialize all the fallen service men and women of the U.S. Armed Forces over Memorial Day weekend, May 26 through May 28, 2012.
WCPE will be participating in the National Moment of Remembrance, May 28, 3 p.m. (ET). WCPE will silence their broadcast momentarily in remembrance, reflection and honor of the fallen service men and women. The broadcast will resume with the playing of Taps.
"WCPE honors our nation's soldiers, who have made the ultimate sacrifice for our country," says WCPE Assistant Music Director Kenneth Bradshaw, who also served in the Air Force. "American composers and patriotic music will be featured throughout the weekend."
A partial listing includes: (All times ET)
26 Saturday
9:00 a.m. Vieuxtemps: "Souvenir d'Amérique"
11:00 a.m. Dvorˇák: String Quartet no. 12 in F (American)
1:00 p.m. Copland: Red Pony Suite
2:00 p.m. Beethoven: Quintet in E-flat for Piano and Winds
3:00 p.m. Chadwick: Symphonic Sketches
4:00 p.m. Gershwin: Porgy and Bess Fantasy for Piano Trio
5:00 p.m. Barber: Knoxville: Summer of 1915
27 Sunday
7:00 a.m. Williams: "Song for World Peace"
11:00 a.m. Gould: "Amber Waves"
1:00 p.m. Gershwin: Rhapsody in Blue
3:00 p.m. Hanson: Symphony no. 2 (Romantic)
4:00 p.m. Copland: Music for Movies
5:00 p.m. Tower: Made in America
28 Monday
8:00 a.m. Sousa: "The Stars and Stripes Forever"
9:00 a.m. Mizesko: Sketches from Pinehurst
11:00 a.m. Copland: Appalachian Spring
12:00 p.m. Williams: "Hymn to the Fallen" from Saving Private Ryan
1:00 p.m. Rodgers: Five Selections from Victory at Sea
2:00 p.m. Nelson: "Savannah River Holiday" (an Overture)
3:00 p.m. "Taps"
5:00 p.m. Williams: "Liberty Fanfare"
7:00 p.m. Dvorˇák: American Suite
10:00 p.m. Barber: "Agnus Dei"
"May these men and women who gave their lives rest in peace," concludes Bradshaw.
WCPE's 24/7 live broadcast of Great Classical Music, 24 Hours A Day can be accessed by military and foreign service personnel around the globe in several ways; on-line streaming in multiple formats, including IPv6, small dish home satellite reception, local cable television systems and traditional radio broadcasting. A complete list of the ways WCPE is available with instructions for cable and satellite reception can be found at: http://theclassicalstation.org/listen.shtml.
About WCPE:
With a 30 plus year history, WCPE 89.7 FM is a non-commercial, 100 percent listener-supported, independent station dedicated to excellence in Great Classical Music broadcasting. WCPE is heard worldwide on the Internet in multiple formats, including the next generation IPv6. Because WCPE receives no tax-derived support, the station conducts two on-air fundraising campaigns and two major mail-out campaigns per year to raise needed operating funds. For more information, visit http://www.TheClassicalStation.org or call 919-556-5178.
For Immediate Release
Media Contact:
Curtis Brothers
919.556.5178
curtis(at)TheClassicalStation(dot)org
###