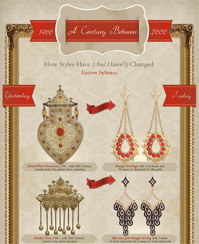 For over 20 years Provident Jewelry continues to stay up with the trends of modern jewelry. Estate, deco and vintage pieces have remained popular across the ages and Provident Jewelry is thrilled to be part of this movement.
West Palm Beach, FL (PRWEB) May 30, 2012
Vintage is all the rage. Styles, antiques pieces, and imitation pieces are all in vogue as long as they resemble (or are from) the past. Provident Jewelry has begun a set of infographics detailing how more modern tastes are really just the reforming of shapes and motifs from times gone by. Named "A Century Between" the infographics pair jewelry pieces from a hundred years past with comparable pieces of today.
The first of the series titled "Eastern Influences" shows mostly how pieces developed last century in Central Asia, and Africa. Although the final two pieces are from America and Austria respectively, both use motifs found in traditional non-western art, such as abstracted patterns. All of the images and information for the pieces on the left hand side were found through the extensive collection at the Metropolitan Museum of Art.
Meanwhile the modern pieces on the right are models from various designers. Each piece corresponds in some stylistic capacity to the piece on the left. The designers may have never seen the preceding pieces or been inspired by them. However, their blatant comparison shows a commonality through time and place for certain aesthetics. Take for example the early 20th century Ersari collar stud, and its comparison, the coral and lapis bead flower. The differences are vast, the solidarity of the preceding piece, the difference of the material, and so on. Despite this, the curving petal-lines, the use of beading and the similarity of color palette all show that the appreciation for certain shapes, lines and colors transcend time and culture.
Provident Jewelry is one of the prime buyers and sellers of estate jewelry, giving them an expertise in collecting quality pieces from the past. At the same time they have a fantastic grasp of modern jewelry trends and techniques. They have a vast repository of both types of jewelry which offers an excellent selection for the buyer. Having one style doesn't mean excluding the other, as the infographic shows. Even newer styles have an eye towards past looks, and one can achieve a vintage feeling by mixing and matching pieces from different eras and designers.
Now that vintage jewelry is the mode, modern buyers have the comfort of knowing that newly made pieces can have the same feeling of century old pieces. Today's jewelry connoisseur has the ability to get modern quality with a historic feel, or a contemporary piece perhaps inspired by ancient motifs. Provident Jewelry's A Century Between allows one to bypass time and place to discern historic and modern pieces between one another. So join the journey as Provident Jewelry leads the way. Safe travels.
Click here to view A Century Between.