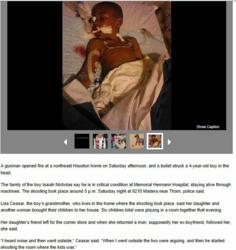 It was hard. It was tense. It was the stuff we preach about. It seldom happens. But when it does, you know that the power of God is real.
Bishop James Dixon
Houston, TX (PRWEB) May 22, 2012
March 31, 2102 is a day that little Isaiah, his parents and grandmother will never forget. An ordinary day turned into a family's worst nightmare. While the active child played with other children in the home of Lisa Ceasar, his grandmother, a man fired multiple shots through the windows from outside the northeast Houston residence. One of those bullets struck 4 year old Isaiah in his forehead, traveled down through his face and mouth and lodged in his neck. The child's life dangled by a thread of hope and prayers that were soaked in tears. Miraculously, Isaiah lived.
On May 20th, at an event entitled "Celebrating A Miracle" the community came together committed to raise funds to support Isaiah's recovery and to help his grandmother with unexpected expenses resulting from the incident. His grandmother operated a daycare at her home address. Now she is forced to relocate her business due to the fear this shooting created.
During the program, The Community Of Faith pastor, Bishop James Dixon, received an unexpected message from Pastor Hickman. The shooter, Candale Hall, who is out on bail awaiting trial, desperately wanted to face the family while they were in church to openly apologize for the pain caused by his actions. After consulting with the family privately, hearing their willingness and permission, Bishop Dixon arranged the moment. Within 45 minutes, Candale Hall was at the church. Police officers hired by the church for security assisted. Congresswoman Sheila Jackson Lee was also present and provided support.
As seen on Channel 2 Houston http://www.click2houston.com/news/Suspect-in-boy-s-shooting-issues-surprise-apology/-/1735978/13498860/-/bn2jp7/-/index.html
At the altar, the young man stood and extended his apologies to Isaiah's family. He was obviously broken. Isaiah's mother and grandmother wept. His father looked straight into the eyes of the man who nearly took his son's life. His emotions were mixed. But after a clear statement was made that expressed grief and sorrow for the damages done and pain caused, the amazing happened. The family verbalized acceptance of the apology, extended forgiveness and symbolized it by shaking his hand. "It was hard. It was tense. It was the stuff we preach about. It seldom happens. But when it does, you know that the power of God is real."
Isaiah's family first met Bishop Dixon when he visited them at the hospital. Dixon was accompanied by Pastor E.A. Deckard of Greenhouse Fellowship Church. Isaiah's family members are now vocal advocates for a program started by Bishop Dixon that is called Be Your Brother's Keeper, Not Your Brother's Killer. (http://www.wepowernow.com)
To help support this family, a special fund has been established. Log on to cofempowers.org and click Isaiah's Support Fund. Checks made payable to COF-Isaiah's Support Fund, may be mailed to The Community Of Faith Church, 1023 Pinemont Drive, Houston, Texas, 77018
Reported by
Morris Parsons