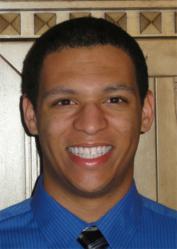 I am thrilled and thankful to have won CPAexcel's grand prize scholarship... This scholarship will definitely help me focus more on my studies at Kansas State University and less on paying for my studies.
Sedona, AZ (PRWEB) May 23, 2012
CPAexcel CPA Review, a recognized leader in the CPA Exam preparation profession, is pleased to announce the winners of its Spring 2012 Scholarship Program.
On May 7, 2012, CPAexcel awarded over $46,000 in cash and CPA Exam Review Course scholarships to 31 university accounting students to encourage them to pursue their accounting studies and to pass the Uniform Certified Public Accountant Examination (CPA Exam).
We are very pleased to award the Grand Prize to Brandon Smith of Kansas State University. Mr. Smith received a $2,500 cash scholarship and the $1,800 CPAexcel Video Gold Medal Course.
"I am thrilled and thankful to have won CPAexcel's grand prize scholarship. Ever since I decided on my major of accounting, I have wanted to become a CPA, because of the expansive opportunities it unlocks. CPAexcel's review course will help me prepare and take away the stress of studying for the CPA exam. I am looking forward to the day when I have taken the CPA exam and can credit it to the help of CPAexcel's review course. This scholarship will definitely help me focus more on my studies at Kansas State University and less on paying for my studies. Thank you again for the scholarship and review course." ~ Brandon Smith, Kansas State University
The five First Place Winners will each receive CPAexcel's premier Video Gold Medal Course which includes Professor Mentoring worth $1,800 each. In alphabetical order by university, they are:

Brigham Young University: Anthony Castillo
Rowan University: Jason Kraus
St. Joseph's College (NY): Meghan Kanas
University of Illinois, Champaign-Urbana: Shenghui Xu
University of New Brunswick, Canada: Kent Manderville
The 25 Second Place Winners will each receive CPAexcel's Online Video Self-Study Course worth $1,455 each. The winners are:
Athens University of Economics and Business: Charikleia Prassa
Azusa Pacific University: Shabnam Talab
Boise State University: William Harvey
California State University, Los Angeles: Jesse Martinez
Duquesne University: George Fausold
Gardner-Webb University: Stephanie Helmuth
Liberty University: Mary Hull
Linfield College: Hoang Samuelson
Loyola University: Monja Keime
Miami University: Dan Croghan
Middle Tenessee State University: Minlan Yang
Missouri Southern State University: Elesha Pledger
New Mexico Highlands University: Tatsuki Yamaguchi
Northern Kentucky University: Robyn Meyer
Saint Xavier University: Matthew Lubinski
Sam Houston State: Sabrina Chapman
SUNY Fredonia: Nicole Karchensky
Tarleton State University: Kody Fain
The University of Texas Pan American: Maria Ibarra
Transylvania University: Amanda Mason
University of Louisville: Alexandra Santomo
University of Maine: Brittany Meservey
University of Melbourne: Dieu Long Lam
University of the Virgin Islands-St.Thomas Campus: Makiijah Crabbe
University of Wisconsin-Eau Claire: Katelyn Goettl
For the complete list of winners, please visit http://www.cpaexcel.com/scholarshipwinners.
These scholarships pave the way for these bright young students from diverse backgrounds to excel in the accounting profession, which will benefit us all. CPAexcel supports the development of the next generation of great accounting minds.
Due to the overwhelming response to the Spring 2012 scholarship program, CPAexcel will offer another accounting student scholarship program this fall.
About the CPAexcel Accounting Scholarship Program:
Through CPAexcel's continuous commitment to supporting accounting education, CPAexcel has awarded over $1,200,000 in scholarships to motivated American and international accounting students over the past decade.
The CPAexcel Accounting Scholarship Program is a nationally recognized organization dedicated to supporting accounting education and developing leaders for the next generation of Certified Public Accountants (CPAs). CPAexcel's mission is two-fold: to provide financial assistance to students who are currently majoring in accounting and to encourage accounting students to pursue careers as Certified Public Accountants. CPAexcel accomplishes its goals through collaboration with academic, professional, and government organizations.
About CPAexcel CPA Review:
CPAexcel produces CPA Exam study courses with great clarity the underlying financial concepts in each section of the CPA Exam. CPAexcel CPA Review Courses focus on translating mountains of accounting information, government tax and regulation legalese into understandable modules.
Proven to prepare students to pass for the CPA Exam at nearly twice the national average, CPAexcel CPA Review offers a dynamic learning system which dramatically reinforces learning and retention. Concise, interactive lessons keep users focused while reviewing important concepts. Unique in the CPA Review industry, CPAexcel promises to be "partners until you pass," providing students with unlimited free updates and free course repeats until one year after they pass the CPA Exam.
CPAexcel is a branded product of Efficient Learning Systems, Inc.