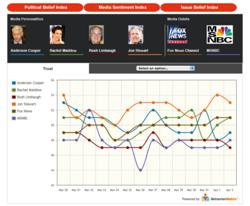 Our technology allows Crowdverb to analyze consumer emotion much faster and more efficiently than traditional public opinion and market research
Philadelphia, PA (PRWEB) May 24, 2012
BehaviorMatrix announces an exclusive partnership with Crowdverb to provide BehaviorMatrix behavioral analytics to capture emotional behavior data, unlocking the key to understanding and engaging audiences based on trending data surrounding audience attitudes and preferences.
Crowdverb's CSA™ Complete Signal Analysis exclusively uses BehaviorMatrix's technology to open a window into crowds, revealing the behaviors and emotions that drive decisions and actions. The patent-pending Emotional Indexing℠ technology from BehaviorMatrix, combined with Crowdverb's analytical expertise gives clients the power to measure complex emotions such as trust, leadership and electability on an ongoing basis – something never before possible. This ability to truly understand the consumer sets a new standard for interpreting crowd-based behavior for grassroots mobilization campaigns.
"Mobilization requires unique insight into the pulse of the consumer and voter, and that is what BehaviorMatrix gives us," said Crowdverb co-founder and mobilizer Cyrus Krohn. "Real-time, insightful information allows Crowdverb to provide the best possible advice to our clients."
BehaviorMatrix pulls tens of millions of structured and unstructured data points from a diverse set of sources, going far beyond standard social outlets like Facebook and Twitter. The data then undergoes advanced linguistic and cognitive behavioral analysis to identify and quantify emotional signals, from nuanced feelings to polarizing outbursts. The system can distinguish between more than 100 different human emotions, from the simple (love, hate, joy), to the sophisticated (trust, apathy, amazement).
"Our technology allows Crowdverb to analyze consumer emotion much more quickly and efficiently than traditional public opinion and market research," said Bill Thompson, CEO of BehaviorMatrix. "This agility is critical to providing clients with improved marketing effectiveness and customer engagement."
Crowdverb is offering a public sample of CSA by publishing three ongoing indexes measuring different aspects of voter sentiment:

Media Sentiment Index – Covering the public's perception of media outlets such as Fox News and MSNBC, and personalities such as Jon Stewart, Rush Limbaugh, Anderson Cooper and Rachel Maddow.
Political Belief Index – Measuring what America thinks about its current political leaders. How does Barack Obama match up with Mitt Romney in terms of trust? Where does Chris Christie rank in terms of leadership? The candidates and leaders being monitored include President Barak Obama, Mitt Romney, Hillary Clinton, Ron Paul, Chris Christie and others.
Issue Belief Index – Analyzing how people across the U.S. feel about the Occupy Wall Street Movement.
About BehaviorMatrix℠:
BehaviorMatrix is a behavioral analytics firm founded on the principle that human behavior is driven by emotion. This unique approach is built on proprietary technology, which allows BehaviorMatrix to delve deeper into human perception and emotion to deliver actionable data that a brand or company needs to be successful. Identifying emotional drivers and tracking them over time gives BehaviorMatrix the most comprehensive information in the field of behavioral analytics. For more information about BehaviorMatrix, its technology and its products, visit http://www.BehaviorMatrix.com.
About Crowdverb™:
Crowdverb specializes in using an intensely data-driven approach to provide highly scalable activist mobilization around issues and legislation, manage brand reputations and promote products. Crowdverb is managed by a team of commercial and political experts who help clients galvanize and direct the "new" marketplace. Crowdverb was acquired in April 2012 by Direct Impact, a wholly owned subsidiary of WPP, which has spent the last two decades growing a local network of experts to engage community influencers and local media. For more information, visit http://www.crowdverb.com.
Contact:
Howard Reid
reid(at)behaviormatrix(dot)com
(610) 365-1189