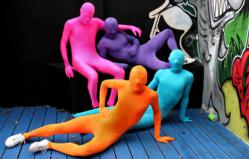 I started the business with an investment of £200
(PRWEB UK) 23 May 2012
Jack Lear, from Tenby in Pembrokeshire, set up his own company selling 'Bodysocks' – all-in-one lycra fancy dress costumes – in April last year.
He is now hoping that orders will roll up in the weeks building up to the Olympic games with his new flag suit range.
The Pembrokeshire young entrepreneur of the year, spotted a gap in the market for affordable fancy dress, and devised the 'Bodysock' after carrying out research and sourcing manufacturers in China.
"I realised that the Japanese, so called Zentai suits were really popular but they seemed to be marketed to a particular niche that wasn't fancy dress," said the 18-year-old.
"It was actually targeted as a kind of fetish item but I knew it would be popular, with colourful and fun designs, for a youth market. I approached a supplier in China, who has been able to create the styles I wanted and it's proved to be really successful."
Having launched his product on the internet, via the website he designed himself, the teenager has since secured orders from customers from Germany to Barbados.
The unusual leotard-like product, which comes in many styles and colours has become a bit of an internet sensation with customers posting pictures of themselves wearing them on Facebook.
"They've been used for lots of different occasions, including stags, festivals, parties, and charity ventures." he said.
"Last week I was sent some photographs from customers in the Caribbean, who'd worn them for a regatta."
Jack's website http://www.bodysocks.co.uk is currently being translated into both German and French, and he is in process of developing websites for Australia and the United States.
It isn't the teenager's first business. He was selling advertising space to an American company on his former games website at just 14.
"I've always had a drive to get involved in business, finding something people want and supplying to them," he said."
The student, who dropped out of his A' level studies in Business, IT and PE after the first year, said he couldn't cope with the growing demands of his business and schooling.
He has since ventured into selling accessories to compliment the huge variety of Bodysocks that he offers, from bold one-colour suits to the premium skeleton and tuxedo suits plus – soon to arrive – Olympic flag suits.
"I started the business with an investment of £200. At first I bought 20 suits and when I sold them I bought 60. After that I had 100 and sold them. Now I buy suits in batches of 1,000."
"Obviously the focus is recognising what is going to be popular and clearly we anticipate our Olympics costumes to sell well over the next few weeks."
"I have already commissioned ones with the English, Welsh, Scottish and the Union Jack flags printed on the suits."
The rapid success of the business and demand for Bodysocks has already seen the school leaver outgrow his current shop.
"My dad's garage isn't longer big enough for the office and storage space I need so, Im setting up a new base with a loan from Pembrokeshire County Council."