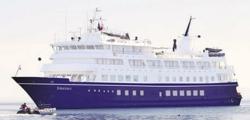 New York, NY (PRWEB) May 22, 2012
Travel Dynamics International is pleased to announce the inaugural voyage of the newly-renovated M/V Yorktown. The sold-out voyage departs from Gloucester, Massachusetts, on May 24, 2012, and sails north along the Maine coast, through the Canadian Maritimes, and into the St. Lawrence, before disembarking in Montreal on June 5. Guest lecturers accompanying the voyage include maritime historian and former Professor of Naval History at the U. S. Naval Academy, William Cogar. Ceremonies celebrating the new ship are expected along the itinerary, beginning with a proclamation from Mayor Carolyn Kirk on behalf of the City of Gloucester during a Lobster Bake on the day of departure.
Built in Florida in 1988, Yorktown accommodates 138 guests in 69 outward facing cabins, is certified by the U. S. Coast Guard and flies the American flag. Originally operated as the Yorktown Clipper by Clipper Cruise Line, the ship was acquired by New York - based Travel Dynamics International in August 2011 and has just completed an extensive refurbishing of the interior and overhaul of mechanical and engineering systems, including installation of state-of-the-art satellite navigation and communications. The renovations were performed by Detyens Ship Yards of North Charleston, South Carolina.
Drawing on 43 years of experience operating educational voyages aboard small ships in every corner of the world, Travel Dynamics International has designed a series of itineraries that will keep Yorktown busy in North American waters. Following the inaugural voyage, Yorktown will continue down the St. Lawrence into the Great Lakes for the summer, before returning to the Canadian Maritimes in September. Cruises at the peak of fall foliage in New England and the Hudson River valley precede explorations of the Chesapeake Bay. Late November and December will find the ship along the Gulf Coast and on the lower Mississippi River. Yorktown opens 2013 with voyages to the ancient sites, rainforests and barrier reefs of Belize and Guatemala.
"We are thrilled and gratified by the tremendous response to our North American voyages," says Travel Dynamics International Co-President Vasos Papagapitos. "It is wonderful to be able offer world class travel experiences right in our own backyard."
Who We Are
Travel Dynamics International is the leading operator of high-caliber educational and cultural cruises aboard small ships. Offering customized voyages guided by distinguished scholars and experts, Travel Dynamics International caters to the traveler with a keen intellectual interest in history, culture, and nature.
Founded on the belief that traveling and learning about the world and its many cultures enriches individuals and society as a whole, Travel Dynamics International excels at voyages that engage travelers with the destination and with one another.
For more information on Travel Dynamics International cruises please visit our website at http://www.TravelDynamics.com