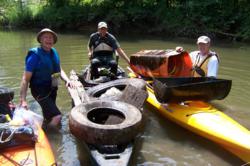 National River Cleanup gives every American a personal and rewarding way to help the river they love.
Washington, DC (PRWEB) May 23, 2012
American Rivers, the nation's leading voice for healthy rivers and clean water, today announced the kickoff of National River Cleanup. For over two decades this program has mobilized hundreds of thousands of volunteers to pick up trash from rivers nationwide.
Healthy rivers provide major benefits like clean drinking water, wildlife habitat, and recreation opportunities. Unfortunately, millions of tons of trash – including plastic bags, old tires, and large appliances – end up in our rivers and streams each year.
National River Cleanup provides an excellent way for people to improve river health and give back to their communities – especially this year. 2012 marks the 40th anniversary of the landmark Clean Water Act. It is a time to reflect on the progress the nation has made in making rivers cleaner and safer, and redouble efforts to protect rivers and streams.
"Rivers connect us to each other, to nature, and to future generations. It is wonderful to see so many people across the country taking action to protect and restore their rivers and clean water," said Bob Irvin, President of American Rivers. "National River Cleanup gives every American a personal and rewarding way to help the river they love."
Why hold a river cleanup? Lynsey Knowles, National River Cleanup campaign manager for American Rivers offers these top five reasons:
1. Protect clean water
2. Provide safer recreational opportunities
3. Create educational opportunities for volunteers on local river issues
4. Beautify the community and increase property values
5. Inspire action and build community involvement in river protection
The American Rivers website offers materials for cleanup organizers and volunteers, including an organizer's handbook, interactive map with river cleanup details, educational information and customizable outreach materials. Volunteers can find a river cleanup in their backyard and additional information at http://www.AmericanRivers.org/Cleanup.
The online handbook provides people interested in organizing their own cleanups with comprehensive information on everything from how to scout a location, to how to increase day-of participation. Cleanup organizers will receive a kit with free trash bags, T-shirts, and snacks, while supplies last after registering the river cleanup on the American Rivers website.
The National River Cleanup Program is sponsored by Boulder Canyon Natural Foods, Cox Enterprises, Green Mountain Coffee Roasters and REI. These companies have made a long-term commitment to American Rivers' work to protect and restore rivers across the country.
American Rivers is the leading organization working to protect and restore the nation's rivers and streams. Rivers connect us to each other, nature, and future generations. Since 1973, American Rivers has fought to preserve these connections, helping protect and restore more than 150,000 miles of rivers through advocacy efforts, on-the-ground projects, and the annual release of America's Most Endangered Rivers®.
Headquartered in Washington, DC, American Rivers has offices across the country and more than 100,000 supporters, members, and volunteers nationwide.