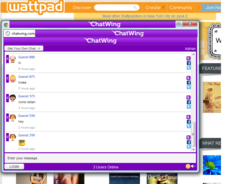 Denver, CO (PRWEB) May 21, 2012
Wattpad, an application that is built for writers, has attracted a lot of users from different parts of the world. This is based on Internet statistics and some detailed user recommendations and reviews. Lately, aspiring Wattpad users have gathered in a universal chat widget known as Chatwing. This chat application has been gaining ground in the blogosphere because of its reliability and easy navigation.
Chatwing is also highly-regarded in different online communities because of its ability to connect groups of people within a specified time. This is why Wattpad writers have been using Chatwing. In a way, Chatwing's chatbox has become another form of personal marketing that anybody can take. Also, it has been proven that well-connected writers have great chances to hit it big in the industry. The Chatwing development team has noted that Wattpad users love to talk about writing topics, tips, and writing experiences.
Chatwing may appear as a simple blog chat tool, but it has strong features that can topple down other chatrooms with average qualities. Perhaps the most famous of Chatwing's features is social media integration. Through this, Chatwing uses can log in with their Facebook or Twitter accounts. This eases up social connection to a certain degree. Twitter users have also benefited from Chatwing because they managed to find more followers.
Wattpad users can also rely on Chatwing when it comes to sharing their stories. A Wattpad user with a blog can install Chatwing's web chat tool in under few seconds. After registration, the user can now undergo widget customization. He gets the chance to modify the size, color, and title of the widget. In this way, the chat box tool will be properly synchronized with the blog. Some bloggers have also observed that Chatwing has improved the visibility of their blogs by up to eighty percent. This percentage has increased when the bloggers included posts that are timely, interesting, and humor-oriented.
About Chatwing.com
Chatwing.com has developed live chat software for websites and blogs. It caters to different online communities due to its high rate of connectivity. Everyone can create a customizable live shout box in 1 minute or less. Users have the ability to customize the size, color, and fonts of the chat product. The ability to chat via social media accounts such as Facebook and Twitter enable Chatwing to offer a personal and unique real-time experience to all sites. Chatwing is 100% free and very easy to use.