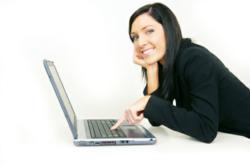 Our free tutorials take the intimidation factor out of having a website and make the whole process a lot less scary.
Los Angeles, CA (PRWEB) May 23, 2012
Making a website has never been so easy! One of the leading internet tutorial services on the internet, 2makeawebsite.com is pleased to announce their latest tutorial How to Make Your Own Website, which is a revision of one of their previous tutorials made as part of their popular How to Build an Internet Presence that Works series.
This newly revised tutorial shows beginners just how easy it is to establish their own internet presence even if the beginner has no previous internet skills or experience. The free guide is specifically built for those who don't want to spend a lot of time reading or wading through a bunch of wordy material. It provides a short two minute video that visitors can watch to see the simple steps required to make their own website. Users can then begin building a website or they can print out a copy of the free handout that is part of the tutorial that shows them step-by-step the exact steps to follow.
The new tutorial is just one of hundreds of free guides and tutorials about every aspect of buying, building and promoting a website. Some of the other more popular guides include tutorials on how to get traffic and visitors, how to earn money online, how to blog and how to register a domain name to name just some of the many learning modules that are all available for free to visitors.
"One of the biggest questions most beginners want to know is 'How can I make my own website in a way that is easy and affordable?"' said Kip Graham, owner of 2MakeaWebsite.com. "Our main goal is to convey to people who don't feel completely comfortable with technology that they can establish an internet presence and that it's both easy and affordable. We take the intimidation factor out of it for our visitors and make the whole process a lot less scary."
2MakeaWebsite.com is a leading provider of how-to information and tutorials to beginners seeking to create, develop and grow their own internet presence. It breaks down complicated information into a series of small, basic steps that a beginner can follow at his or her own pace. Click here for more information.