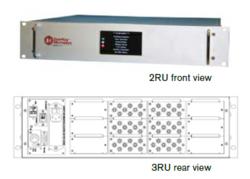 We are excited to put forward a platform that gives the user more control and more flexibility in ways of switching RF signals between many input and output ports and yet being budget friendly in this economy
Ventura, CA (PRWEB) May 23, 2012
Keeping in line with their other new product releases for 2012, Dow-Key is excited to highlight another full featured product, the CB-Series next generation matrix switch. The CB-Series, a non-blocking crossbar system, creates a one-to-one relationship by allowing any input to be connected to any unique output.
Dow-Key developed this next generation crossbar matrix switch system as a switch solution for more complex test setups and signal routing. The CB-Series allows for testing multiple UUT (units under test) with many input and output signals or high speed communication buses without having to connect and disconnect them from the setup. As well, the CB-Series crossbar switching system can route any input signal to any output port such that the path between the I/O ports is unique at any given time.
"We are excited to put forward a platform that gives the user more control and more flexibility in ways of switching RF signals between many input and output ports and yet being budget friendly in this economy," stated Dow Key representative Sara Nazemzadeh. "Software options such as manual control, Ethernet, RS-232, USB and even a built-in web interface are all available in a single COTS solution and features such as keeping track of the cycle count or adding and removing switches to support field repairability and future needs are new to this generation of switching solutions."
Dow Key's CB-Series crossbar switching systems typically start from between 2x2 up to 12x12 and can be customized to support larger configurations.
Dow Key CB-Series Crossbar Switch Matrix specs

Impedance: 50 Ohm
Operating Frequency: DC-18 GHz
Switching Time: 50 ms max. (includes control delay)
Operating life: 1,000,000 cycles min. (cold switching)
Contact Dow-Key directly for additional RF specs on the CB-Series switch matrix. The Dow-Key website also has a support center online that is home to a number of helpful white paper product tutorials for customer use.
Dow-Key Microwave Corporation has been developing matrix switch solutions for a number of industries including: ATE, Avionics, SATCOM, Space and more since it's founding in 1945. Dow-Key produces their expert grade matrix switch solutions out of their state-of-the-art facility in Ventura, California.