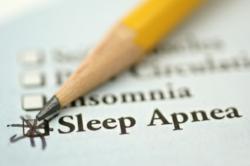 Assessments and testing are the first step towards getting necessary treatment.
Van Nuys, California (PRWEB) May 22, 2012
In light of recent studies linking cancer and sleep apnea, Aviisha Medical Institute, LLC is taking $200 off the cost of its home sleep test (originally $449.49) and offering free assessments for the duration of May. The special offer is intended to encourage the public to get tested for sleep apnea and raise awareness about the deadly consequences of untreated apnea. Patients anywhere in the United States will be eligible for the free assessments and special price.
Untreated sleep apnea has been linked to a plethora of serious diseases. This week, researchers will add a new disease to that list: cancer.
Two studies linking sleep apnea and cancer will be presented at an international conference in San Francisco this week. In one study, researchers found that the more severe a patient's sleep apnea, the greater the risk of dying from cancer. Those with moderate sleep apnea were found to die at twice the rate of those without it, and those with severe sleep apnea died at a rate of nearly 5 times those without the disease. In a second study, researchers found that the greater the extent of oxygen depletion, the more likely a person received a diagnosis of cancer. Patients with obstructive sleep apnea stop breathing in their sleep, causing their oxygen levels to lower dramatically which increases their likelihood of being diagnosed with cancer.
The studies add to the long list of consequences of untreated sleep apnea. Earlier this month, researchers from Dresden University revealed that untreated sleep apnea increases one's risk of silent strokes and having small lesions in the brain. Sleep apnea has a known association with other serious medical problems such as hypertension, heart failure, arrhythmias, stroke, heart attacks, and erectile dysfunction. It is also associated with chronic sleepiness, motor vehicle accidents, memory difficulties, anxiety, and depression.
"One of the major concerns we have is that most people with sleep apnea don't know they have it," said Dr. Avi Ishaaya, MD, FCCP, FAASM, FACGS, Aviisha's cofounder and CEO. Studies estimate that 85% of sleep apnea sufferers don't know they have the condition. "Assessments and testing are the first step towards getting necessary treatment." The home sleep test offered by Aviisha allows patients to get tested in the privacy and comfort of their home. The test is considerably less expensive than traditional testing in a sleep laboratory but equally reliable. It is covered by most major insurance companies.
To order the home sleep test, call 877-4AVIISHA (877-428-4474) or visit sleep.aviisha.com and use the promotional code STAYHEALTHY.
About Aviisha
Aviisha, a national leader in home sleep care, works with physicians and patients around the country to provide comprehensive, convenient, affordable and expedient services to address the emerging sleep apnea epidemic. Aviisha's services include screening, home sleep testing, treatment, compliance management, and education. Additionally, Aviisha operates fully accredited sleep labs in Southern California and the MD Home Sleep Program which enables both sleep and non-sleep physicians to diagnose and treat sleep apnea. For more information visit http://sleep.aviisha.com or call 877-4AVIISHA (877-428-4474).