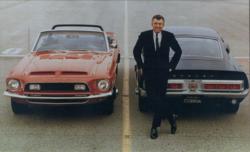 CARLISLE, PA (PRWEB) May 23, 2012
The world's rarest muscle car, the only 1967 Shelby GT Convertible built, will be part of this year's elite invitational display at the Ford Nationals, held June 1-3, at the Carlisle Fairgrounds in Carlisle, PA.
This particular Shelby GT isn't just rare; it's also highly desirable. The convertible's original trim package includes Candyapple Red paint, white power top, black deluxe interior, 428cid "Police Interceptor" engine, automatic transmission, air conditioning and emissions system. The historical significance of 67413C00139 includes being:

The only big block GT convertible built by Shelby American, Inc. (Los Angeles, CA)
The only dual-quad carbureted Shelby GT (or Ford Mustang) convertible built
The recipient of Ford's first C-6 automatic transmission built (SN: 000001)
Documented as a Shelby American company car and assigned to Carroll Shelby
One of two Shelby GT vehicles to be classified as "1968 Prototypes"
The most expensive GT 500 company car in Shelby American's inventory (FY-1967)
The single-most photographed and publicized Shelby GT ever built
Samantha and Brian Styles, the caretakers of this priceless piece of Americana, are extremely pleased to have completed the car's three-year restoration in time for the 50th anniversary of Shelby American and the iconic Shelby Cobra. "Having the 1967 GT 500 Convertible invited to the Carlisle Ford Nationals as part of their special T-building display is both an honor and a perfect means of helping us to achieve our goal of sharing this unique car's history with other enthusiasts," said Styles.
About the 1967 Shelby GT 500 Convertible
On August 15th, 1966, Shelby American placed an order for three 428cid-equipped 1967 Mustangs: a fastback, a coupe, and this convertible. These special-ordered cars would become the first production line big-block Shelby GT 500's built.
Upon arriving at Shelby American's Los Angeles facility in November 1966, the convertible was designated a "company car" and promptly assigned to Carroll Shelby. Over the next four months, Carroll's "personal driver" was often loaned to his friends, employees, celebrities, and visiting executives from the Ford Motor Company.
In April 1967, the lone GT 500 Convertible was re-tasked as a '68 styling prototype. Updated fiberglass body parts were fitted to the car so that it could be extensively photographed for print ads, brochures, and dealer literature to promote the upcoming 1968 Shelby Cobra GT 350 and GT 500 models due out in the fall.
Additional history, documents, interviews, vintage ads and photos of the 1967 Shelby GT 500 Convertible can be viewed by visiting http://www.1967shelbyconvertible.com.
About the Carlisle Ford Nationals
This year marks the 17th anniversary of the Carlisle Ford Nationals – Presented by Gumout. The 2012 event will be attended by more than 45,000 Blue Oval enthusiasts, and will showcase multiple vendors, special displays, reunions, a downtown parade and a one of a kind gathering of Carroll Shelby's namesake, the Shelby Mustang.
The weekend officially launches on Friday, June 1st at 7 a.m. and continues through 3 p.m. Sunday, June 3rd. Over the span of three days, attendees can browse the Swap Meet, Car Corral and Manufacturers' Midway, while witnessing American history sprawled over the 150-acre facility. Special displays will be situated inside Buildings G, T and Y as part of the more than 2,500 Ford Motor Company brands on site. Along with the displays on the National Parts Depot Showfield, the Carlisle Expo Center will once again host the Ford Ride and Drive Experience, offering free test drives in the latest rides from Ford. The expo center is located less than two blocks from the fairgrounds and test drives are open to all drivers with a legal and valid license.
For additional up-to-date important information on the Carlisle Ford Nationals, please visit http://www.carlisleevents.com.