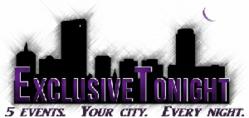 ExclusiveTonight.Com - 5 Events. Your City. Every Night.
New York, New York (PRWEB) May 22, 2012
"Ever notice that when your schedule is screaming busy there is always something spectacular going on that you can't find the time to enjoy? Yet whenever you work your tail off to earn a little bit of well-deserved free time your city is seemingly dead!" ExclusiveTonight.Com has introduced an effortless way for any oxygen-breathing mammal to fully engage every second of their fun time. ExclusiveTonight.Com is a socially driven database of nationwide events, designated by city and state. With 2 clicks of the mouse, any user is able to find a wide range of fulfilling events any day of the week.
The beauty of ExlusiveTonight.Com is its simplicity of use. Literally 2 clicks is all that is needed. Find an event that suits tonight's taste? All pertinent information is provided: event details, a map of how to get there, and a counter displaying expected turnout for the event. Furthermore, as a socially driven database, any individual or business can easily post an event of their own for others to see. Current social media helps connect individuals, ExclusiveTonight.Com provides something that messages and text posting can't, actual physical togetherness! Reduce stress in one aspect of life by allowing ExclusiveTonight.Com to help plan that special night out.
ExclusiveTonight.Com Is Great for when:
-At home and can't find anything to do
-Out of touch want to reconnect with city's entertainment offerings
-Exploring new aspects of your city
-Traveling and want to make sure to hit the right spots
-Entertaining Guests
-Taking a trip to a nearby city for some fresh entertainment
-Hosting An Event and want to spread the word
-Promoting a new hot spot
ExclusiveTonight.Com -- 5 Events. Your City. Every Night.
For more information about this topic, please visit ExclusiveTonight.Com for Contact Information or e-mail Tom directly at Tom(at)ExclusiveTonight(dot)Com