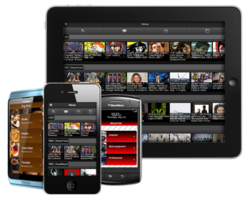 WebMobi enables cross-platform apps for Android, IOS, BlackBerry and more.
Palo Alto, CA (PRWEB) May 25, 2012
WebMobi, a cloud-based HTML5 cross-platform mobile app creation company, today launched support for the BlackBerry® platform for business and enterprises users.
WebMobi enables anyone to create mobile apps that are backed by cloud services. BlackBerry app developers can quickly create their mobile apps for BlackBerry® PlayBook™ tablets and BlackBerry® smartphones with WebMobi components, exposing their apps to an even bigger audience.
As it becomes increasingly crucial that businesses establish an effective mobile presence in 2012, WebMobi strives to help businesses across all verticals to enhance their mobile experiences by offering a single cross-platform solution that enables users to create compelling mobile web and native apps that can be deployed across all major mobile devices rapidly, giving businesses full control over their mobile content.
WebMobi offers developers and designers within enterprises and businesses the ability to rapidly create mobile apps. The following components are available in the most recent release of WebMobi.
1) Pre-build components including RSS feeds, general, social media and more.
2) Developer components, where the developer can create their own UI in HTML5, jQuery Mobile or Cordova.
3) WYSIWYG Designer component to create custom HTML5 content.
4) Importing Custom Themes built with JQuery Mobile Theme-roller.
About WebMobi
Founded in 2011, WebMobi is a cloud-based SaaS platform that aims to provide its users with a competitive advantage when enhancing mobile presence. With its scalable cross-platform application development and user-friendly interface, WebMobi provides a fully integrated single solution that allows both consumers and enterprises to easily create and deploy customized mobile applications to engage their audiences. For more information, visit http://www.webmobi.com.
The BlackBerry and RIM families of related marks, images and symbols are the exclusive properties and trademarks of Research In Motion Limited.