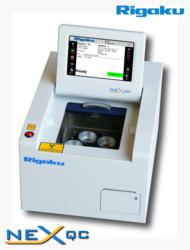 Austin, TX (PRWEB) May 30, 2012
Applied Rigaku Technologies, Inc. has announced an effective new method for the analysis ammoniacal copper zinc arsenate (ACZA) in treated lumber. The new method is detailed in application note #1225 and demonstrates the use of the new low cost Rigaku NEX QC benchtop EDXRF analyzer for the measurement of ACZA in treated wood and wood treatment solutions.
With the exception of naturally durable species, such as redwood and cedar, wood used in applications requiring it to frequently get wet or to be in contact with the ground are typically pressure treated with preservatives. Such wood treatments are used to protect lumber from fungi, insects, UV damage and general wear. Common wood treatment formulations containing ACZA are typically used to treat wood species, such as Douglas fir, that do not easily retain other treatments.
When treating wood, the chemical balance of treatment solution must be monitored to ensure the highest quality while minimizing waste and excess cost due to treatment usage or product rejection. Copper (Cu), zinc (Zn) and arsenic (As) levels are monitored in solution prior to treatment, as well as in the wood to ensure proper retention. Energy Dispersive X-ray florescence (EDXRF) is shown to be an ideal tool for a quick, simple, reliable means of analysis as required throughout the quality control process.
While previous generations of analyzers used gas-filled proportional counter detectors, measuring Cu and Zn as one peak, the NEX QC analyzer solves this problem by using a rugged semiconductor detector that affords much higher resolving power of elemental peaks. Typical results detailed in the report show exceptional performance for the fast and simple measurement of ACZA in wood and solution, giving the production process of treated lumber an affordable means to optimize quality while minimizing costs and reducing product rejection and waste.
A copy of this report may be requested at: http://www.rigakuedxrf.com/edxrf/app-notes.html?id=1225_AppNote
About Rigaku
Since its inception in Japan in 1951, Rigaku has been at the forefront of analytical and industrial instrumentation technology. Rigaku and its subsidiaries form a global group focused on life sciences and general purpose analytical instrumentation. With hundreds of major innovations to its credit, Rigaku and its subsidiary companies are world leaders in the fields of small molecule and protein crystallography, X-ray spectrometry and diffraction, X-ray optics, as well as semiconductor metrology. Rigaku employs over 1,100 people globally and its products are in use in more than 70 countries – supporting research, development, production control and quality assurance activities. Throughout the world, Rigaku continuously promotes partnerships, dialog, and innovation within the global scientific and industrial community.
For further information, contact:
Scott Fess
Product Manager
Applied Rigaku Technologies, Inc.
tel: +1. 512-225-1796
info(at)RigakuEDXRF(dot)com