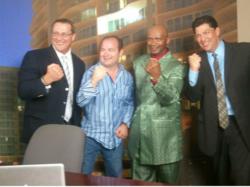 Optimistic Entrepreneurs Refuse to Accept the Hand they have Been Dealt!
Orange Beach, Alabama (PRWEB) May 22, 2012
Entrepreneurs are gearing up for what could be the most anticipated and powerful Health and Wealth event since the BP oil spill. While the Gulf Coast business owners have been getting ready for the 2012 "comeback" year, there is plenty of trepidation given the volatile business climate.
Gary Stepanian, President of Biz Event Planners, Inc, the promoter of the event, has assembled an impressive list of national and international presenters. In from New York is Barbara Weltman, attorney and tax authority, corporate speaker, contributing editor, radio show host, and author of more than a dozen books. Stepanian says: "Business owners who attend her presentation will learn how to make and KEEP more money by understanding the new tax laws and opportunities."
"Another presenter that I'm very excited about is Dan Vega, who is both a successful entrepreneur and international speaker and has presented to audiences of up to 20,000," says Stepanian. He added that Dan also hosts the new television talk show "Tuesdays with Dan", which reaches about 1 Million viewers each week. Vega will be covering subjects such as "How to Negotiate and Win", "Why Most Companies Fail, and How to Avoid It" and the art of "Non-Verbal Communication" (Body Language).
In addition to the economic presenters, we have the world renown Dr. Thomas Schneider, MD., FACS, who is board certified in four (4) different medical specialties and is know for his ground breaking work in age management and regenerative medicine. Doctor Schneider attended medical school at Georgetown University, in Washington DC., and has trained at at prestigious facilities including Bethesda Naval Hospital, Harvard, John Hopkins and the National Institute of Health.
Celebrities and special guests are set to make an appearance and show their support. According to Stepanian, "the event is not intended to be your typical 'sugar rush', rah-rah seminar, but rather to give our attendees real financial, technical and healthful advice that they will be able to cost effectively implement. A lot of free, or near free, Internet software applications will be explained, and that alone is worth the time to attend."