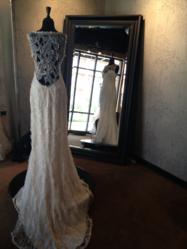 We are thrilled to learn that Priscilla was one of our brides
Denver, Colorado (PRWEB) May 22, 2012
To much of America's surprise, Priscilla Chan and Mark Zuckerberg hosted and celebrated their own wedding on Saturday, May 19th at their home in Palo Alto, California. Guests thought they were attending a party for Priscilla's recent graduation from medical school. Priscilla, using her real first name, but a different last name, first visited Little White Dress Bridal Shop in Denver, the exclusive and only authorized retailer of the Claire Pettibone Couture Bridal Collection in Colorado, in October, 2011. She gave no details about her wedding other than the date, May 19, 2012, and all contact information and arrangements were through a third party friend. It was noted that she heard about Little White Dress Bridal Shop through Claire Pettibone's website, http://www.clairepettibone.com.
Priscilla chose the most beautiful and special "Sky Between the Branches" gown as "the one", and after her gown was made and delivered to Little White Dress Bridal Shop, Priscilla later returned for her alterations, and to purchase her Maria Elena hair comb in April. Her gown was ultimately shipped to the third party address provided to Little White Dress.
According to Little White Dress owner Cate Malone, "We had no idea we were assisting such a soon-to-be well known bride marrying one of the wealthiest men in the world! We are thrilled to learn that Priscilla was one of our brides, and we applaud her spectacular taste and choice in wedding gowns! Claire Pettibone's bridal collection is truly distinctive and creative. Priscilla's choice of "Sky Between the Branches" from Claire's 2010 Cherry Blossom Collection was absolutely ideal. The gown is a soft mermaid silhouette and features matte sequins and ivory cut-out lace and embroidery over silk charmeause, with a sheer illusion back."
Claire Pettibone has achieved a reputation with brides who dream of a more ethereal wedding gown than a simple sheath or grand ballgown. As quoted from the program of Claire Pettibone's runway show presenting her Cherry Blossom 2010 Collection: "Hints of Asian inspiration are interpreted as subtle details and Cherry blossoms literally bloom in the fabrics, as the embroideries and embellishments provide the foliage for this paradise. The more we see and discover, we find the lines between cultures have become blurred, and Beauty is universal. . . As always, my goal is to conceive a timeless expression of beauty that transcends the age in which we live and helps to create a magical day for the bride. In a world sometimes overwhelmed by challenges, a wedding is a celebration of joy and love, a promise of hope for the future . . . a much needed reminder of all that is precious and wondrous."
Claire Pettibone continues, "Take a moment to see the sky between the branches . . . breathe in the softly scented air. The Cherry Blossoms are in full bloom, and a sense of lightness and indescribable beauty takes hold."
Since opening on January 5, 2008, Little White Dress Bridal Shop has become THE destination for brides in the entire region. Little White Dress provides a spacious, welcoming and attentive environment and brings a collection of couture wedding dress designers that were previously unavailable to Colorado brides. With bridal designers Badgley Mischka, Claire Pettibone, Elizabeth Fillmore, Jenny Packham, Liancarlo, Matthew Christopher, St. Pucchi, and more, Colorado brides will be treated to a fashion perspective that has simply not been available before without traveling to New York or California.
For more information about Little White Dress Bridal Shop, Claire Pettibone, and Maria Elena Headpieces, please visit the boutique's website at http://www.LWDBridal.com.