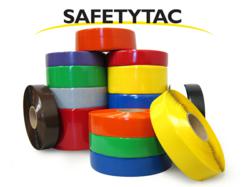 We are excited about our newly designed SafetyTac Floor Tape and feel confident that it will hold up to any heavy traffic
Lake Oswego, OR (PRWEB) May 24, 2012
Certain establishments require specialized safety components to efficiently and safely get the jobs done. Such places often come with large and hazardous merchandise or equipment that are required to be stored or placed in a designated location that must be marked off with floor tape to put employees on their guard.
Popularly used organizational tools to keep certain areas safe in a warehouse or storage place include floor marking devices such as safety floor tape rolls. While the market offers extensive floor tapes of various types, not all such items are created equal.
SafetyTac offers a wide array of floor marking products that include the SafetyTac Floor Tape, the SafetyTac EDGE, the SafetyTac Hazard Tape, the SafetyTac Lean, the SafetyTac Shapes and the Smart Stripe Tape. The webshop also sells the tape applicator for efficient application and use of the tapes.
Demonstrating its leadership in the floor marking industry, SafetyTac is hailed as the top ideal solution for facility traffic situations. Its new industrial floor tape, "SafetyTac" particularly ranks first in alleviating large warehouse equipment traffic involving high forklifts and trucks.
Detailed at SafetyTac.com, the newly designed SafetyTac Floor Tape holds up to any floor marking project, and is highly suitable for practically any facility. The product is known for outperforming the others with its thinner profile, and two-stage tapered edge marking that makes it feel like it is part of the floor – but is tough enough to withstand some of the harshest environments. "We are excited about our newly designed SafetyTac Floor Tape and feel confident that it will hold up to any heavy traffic", said Mike Wilson of SafetyTac.com.
SafetyTac also has integrated hazard striping in its floor tape products to clearly identify the area and emphasizes the importance of keeping specific areas clear at all times, such as electrical panels that are required to be free from any materials for easy access in case of emergencies. The hazard striping is ideal for visually alerting workers where to be cautious in the workplace.
The SafetyTac Industrial Floor Tape is best known for its extra strong rubber-based adhesive that requires simple and easy peel-&-stick installation using an applicator. In addition, the top-rated floor tape is 100% smear and scuff resistant. It requires no dry time, cure time, fumes or a messy clean-up to limit productivity – and is backed by a one-year warranty.
For reliable floor marking products for all industrial needs, http://www.safetytac.com/safetytac/ is a must-visit with its top-rated floor tape offerings.