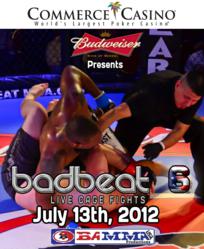 Santa Ana (PRWEB) May 22, 2012
Cooper vs Catlin Bout Slated as Main Event
Brazilian Jiu-Jitsu specialist and 24-Time Grapplers Quest Champion, Bill "The Grill" Cooper (3-1) takes on seasoned MMA fighter Scott Catlin (8-5). Cooper takes a break from his Strikeforce contract to fight in Southern California's leading local promotion BAMMA USA in the Lightweight Division. CEO Brett Roberts stated, "Having Bill (Cooper) headline for us (BAMMA USA) is just another sign of our continued growth in the sport of MMA, not only locally but on the national stage as well. This fight card is solid, top to bottom. The Cooper-Catlin fight will be the topping on a great night of action."
Mike "Joker" Guymon Continues on "THE Road to 155"
In the Co-Main Event of the evening, former KOTC Champion and UFC Veteran, Mike "Joker" Guymon (13-5-1) fights Mike Dizak (5-4). Guymon, after spending most of his MMA career at the 185 pound Middleweight Division, will continue his comeback attempt by making his second appearance at the 155 pound Lightweight Division. In a post-fight interview, Guymon made the following comments regarding BAMMA USA and its CEO Brett Roberts: "I had a lot of people pulling at me coming back and Brett (Roberts) has always been a good guy, he's always been straight up. The people around him, the people in the organization are great people. So, (it made sense) to come back and to do it with some friends and people that I really like."
An additional three fights round out the main card. Tom "The Grinder" Gloudman (6-1) meets Steve "The Dream" Magdelano (8-3), "The Real Deal" Chris Beal (5-0) opposes Kana Hyatt (10-10) and Mike Jasper (3-0) takes on Manny Murillo (4-0)
.
Ticket prices range from $60 to $150. Please contact BAMMA USA for tickets as well as VIP Table opportunities, by calling 714.912.8822 or visiting http://www.BammaUSA.com
Badbeat 6 presented by Budweiser
Friday, July 13, 2012
Commerce Casino
6131 Telegraph Road
Commerce, CA 90040
Doors open at 6:00pm
First fight at 7:00pm
Main Fight Card*
Main Event- 155 lbs: Bill "The Grill" Cooper (3-1) vs Scott Catlin (8-5)
Co-Main Event- 155 lbs: Mike "Joker" Guymon (13-5-1) vs Mike Dizak (5-4)
150 lbs: Tom "The Grinder" Gloudman (6-1) vs Steve "The Dream" Magdalano (8-3)
135 lbs: "The Real Deal" Chris Beal (5-0) vs Kana Hyatt (10-10)
185 lbs: Mike Jasper (3-0) vs Manny Murillo (4-0)
*=subject to change
In response to its growing national and international fan base, Badbeat 6 will be broadcast live on the internet via Livestream's upgraded platform New Livestream. Internet viewers will be asked to join New Livestream directly or sign in through their Facebook account to enjoy the free telecast**.
**=Blackout restrictions will apply locally
About BAMMA USA
BAMMA USA is a Mixed Martial Arts (MMA) promotional company specializing in creating live entertainment featuring both professional and amateur combatants. Currently stationed out of Southern California, BAMMA USA promotes the area's top local talent from mixed martial arts gyms such as CSW, Knuckleheadz Boxing & MMA, Elite MMA, Kings MMA, PKG, Joker's MMA/Lightning MMA, The Bodyshop, Reign Training Center, Total MMA Studios, Ace Jiu-Jitsu, Cobra Kai, Gracie Morumbi, Cesar Gracie Jiu-Jitsu Academy, The Arena, Subfighter MMA, as well as many others. BAMMA USA is Southern California's leading mixed martial arts (MMA) organization providing the area with events monthly and opportunities to professional and amateur athletes.
Past and current fighters who have worked with BAMMA USA founder Brett Roberts include: Mike 'Joker' Guymon, Vladimir 'The Janitor' Matyushenko, Joseph 'Leonidas' Henle, Georgi Karakhanyan, Gabe 'Godzilla' Ruediger, Jason Lambert, Chad 'The Savage' George, Albert Rios, 'The Real Deal' Chris Beal, Jack 'The Outlaw' May, Jared 'The Jackhammer' Papazian, and more…
While the promotion prides themselves on their motto: "Keep Moving Forward" the ultimate passion for BAMMA USA is to create an environment in which fighters are truly valued.
Company Information Sources
http://www.BammaUSA.com
Twitter/@BammaUSA
Facebook/BammaUSA
Personal Contact Information
Brett Roberts, CEO
info(at)BammaUSA(dot)com
714.912.8822
About Livestream
Livestream is the market leader for live event coverage. With simple to use technology, our service allows anyone to broadcast live to the web, as well as being the top destination for live content from around the world. Our clients include Facebook, The New York Times, ABC News, CBS News, Associated Press, HBO, AT&T, PepsiCo, Electronic Arts, Adidas, The Academy Awards, Warner Bros. Records, and Paramount Pictures.
Livestream operates with over 120 full-time staff members in 4 offices—in New York (headquarters), Los Angeles, Bangalore, and the Ukraine. The service is available for free (advertising-supported) or as a feature-rich, monetizable, premium service for business.
The New Livestream is an innovative new platform that combines live video with real-time photos, text, and video clip updates. The technology supports live blogging all executed with ease using the real-time posting tools from both mobile and the web. Features on the New Livestream include an improved video player and an array of new tools that allow more people to discover your event, interact with it and share it across the web.