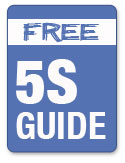 5SToday.com is offering the 5S Guide for free.
Lake Oswego, OR (PRWEB) May 25, 2012
5S is a workplace principle derived from the Japanese philosophy on creating a work space that is efficiently and effectively organized. The fundamental 5S words, which also denote the processes themselves, includes Sort, Set in Order, Shine, Standardize and Sustain. When followed diligently, 5S helps organizations and businesses attain lower costs, better quality, improved safety, increased productivity and higher employee satisfaction.
The successful implementation of the 5sToday 5S Program entails, among other things, the utilization of the right products sourced from a trusted provider. Moreover, a thorough understanding of the procedures and guidelines is just as crucial.
5SToday.com is an online shop that offers 5S supplies and tools that include Label Printers, Pipe Marking Labels, SafetyTac Floor Tape, Smart Stripe Tape, Industrial Floor Signs, Floor Tape, 5S Lean Posters, banners, floor markings and red tags. 5SToday.com is backed by a workforce that recognizes the importance of bringing the latest and greatest 5S products on the market for a successful 5S journey.
As with implementing any new program in a facility, it's important to comply with all standards and regulations, and do it right the first time. As such, 5SToday.com provides visitors not only with the products for their 5S Guide, but also with the information they need to properly implement it. The website underscores that the 5S system relies heavily on staff involvement and commitment at every level.
Helping customers in their 5S adventure, 5SToday.com is offering the 5S Guide for free. Full of useful information, it provides the guidance needed to get started on the program. To get the 5S Guide at no cost, visitors simply have to fill out the form on the website and receive it via email.
5SToday.com also offers various relevant articles detailing what 5S is all about, what its benefits are, and how it can be implemented and sustained using the right products. In addition, the website presents safety training videos to help businesses achieve their 5S goals.
Companies seeking to run a systematic and organized workplace http://www.5stoday.com for all their 5S requirements plus get a free 5S guide toward an effective implementation.