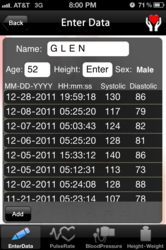 "Great App to store all my medical records and meds. Easy to input data, compare history and chart my progress".says jazz 2229
(PRWEB) May 30, 2012
CDC study, Trends of Acute Ischemic Stroke Hospitalizations in the U.S, 1994-2007, found that stroke hospitalizations increased among both males and females, raising concern about the young population. Use "My blood works" that has everything to start monitoring ones health. Every 40 seconds someone has a stroke in America. In fact 25 % of all strokes happen to someone under 65 years of age.
Things one can do to lower the chances of having a stroke include:
Taking steps to prevent and control high blood pressure. Prevent and control diabetes. No tobacco use. Treat atrial fibrillation. Prevent and control high cholesterol. Maintain a healthy weight. Engage in regular physical activity. Eating a healthy diet low in sodium. Don't drink too much alcohol. Most of these can be monitored by a "My Blood works" user such as blood pressure, pulse and weight that also have their own colorful easy to read graphs.Keep an eye on blood tests with the ability to add as many blood values as needed, such as cholesterol, glucose etc.
"My Blood works" the secretary, will keep track all medication's with a large detail screen for changes and any details one wants to see. The appointment screen is for all appointments, medical and non medical. Have all emergency phone numbers, medical and non-medical in "My Blood works", not all mixed up in contacts which can be numerous. User can also dial right from that screen. The Records screen is for medical events such as surgery dates, family health history, blood type etc., and are helpful when filling out medical papers.
GOGLE LLC is dedicated to having the best patient medical Application that not only tracks App user's health through vitals and blood tests, it is a medical secretary and is the only way to keep up with one's health and have it for viewing all the time. We also created it to be a user friendly App that is easy for anybody to use. Visit http://www.mybloodworksapp.com for more information