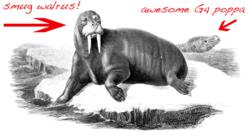 Delray Beach, FL (PRWEB) May 22, 2012
CreditCards.net launched last week and many have taken notice of its comical Russian mascot. Sergei, "The Seal Of Approval," dishes advice paired with "real life" anecdotes from his vast experience in not just finance, but life in general.
Sergei even explained in a post on Saturday why he is going to pass on investing in Facebook stock at its current valuation.
Explained BankAds Co-Founder and COO Sean Sullivan, "BankAds has a very clear goal and frankly that is to create an experience where consumers can not only be presented with factual information and top credit card offers from all major companies, but we hope to bring a little bit of humor to things at the same time."
While mixing humor and financial services might sound like an odd pairing at first glance, it is actually an approach that you see quite often from credit card issuers or other companies within what are widely considered boring or humorless industries. Capital One has their credit card barbarians, Geico its popular Gecko, Aflac the bumbling duck and now CreditCards.net has launched with an adorable seal that is certainly unique as well.
Sergei "The Seal of Approval" is nothing short of a laugh riot; dispensing advice on how to balance a budget and avoid massive credit card bills while simultaneously informing the reader that he's no fan of the walrus, otter and pelican. Creativity and factual information regarding credit cards are not in short supply on this website.
Sergei's back story regarding his dislike of walruses even goes as far as showing an "infamous" illustration of his great, great, great, great grand poppa being "one upped" by a smug walrus. Pelican's are routinely referred to as "bird brains" and the otter is labeled a "sissy."
Sergei's "story" began in Russia, where he refused to follow the career path of his family as a fisherman. Instead he chose to attend university and upon graduation, moved into the fast paced lifestyle as an investment professional managing other people's money. Quickly tiring of the fast cars, money and partying he then chose to become what else, a blogger….
Sullivan, who had previously worked for more than seven years in the advertising industry producing commercials explained further,
"Everyone that has a business model similar to ours, whether it is CreditCards.com, CardRatings.com or any of the other sites someone is going to see listed within Google when they search for "credit cards", we are all essentially distributing the same basic information. There are some differences in terms of how we present the data and connect the consumer to the credit card issuer, but fundamentally the information is the same.
So I think if someone is going to have to sit down and research a bunch of credit card offers, they might appreciate having a laugh or two while they're doing it. We're a very serious and professional company and everything we do is within all best standards and practices. To work with banks and credit card companies you have to be. That being said, our team likes to laugh and enjoy life so I think we are pretty lucky to have been able to get Sergei to agree to join our team."
Lucky indeed, the website has only been live for about a week, yet Sergei's Facebook page has already gained about 300 fans. Only time will tell if Sergei can gain the same fame and adoration as Geico's small green gecko.
BankAds is based out of Delray Beach, Florida. Sergei travels between Siberia and the Bay Area in San Francisco.