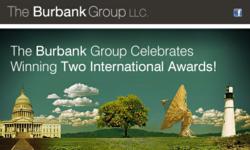 She helped us redefine a 25 year old family business into its expanded, twenty-first century self.
Rockville, Maryland (PRWEB) May 22, 2012
Karen M. Greenwald, President of The Burbank Group, LLC., a multi-award-winning brand identity and messaging boutique, has been named a winner twice this year in the Summit Creative Award® competition for brand work done for Andy Kushner Entertainment (AKE) and rebranding work for Suburban Media Group (SMG). The categories include: Other Online Advertising/Marketing and Landing Page, respectfully.
"Being recognized globally by this caliber of judges makes winning these awards incredibly significant to me, as it is a litmus test for my strategic approach to creating powerhouse brand identity campaigns," said The Burbank Group's President, Karen M. Greenwald.
According to Sean Low, President of BBC, "Karen gets it. She is highly creative and intuitive, which makes her brand identity building a great success for her clients. Having worked with her, and having seen how others in the industry respond to her lead, I am very impressed with her talents."
The winning piece for AKE, a digital "Lookbook," focuses on Owner Andy Kushner's philosophy for designing extraordinary entertainment, "It has been my pleasure to work with Karen for the past four years. With great confidence, I have relied on her for a vast range of solutions, including: my logo, messaging, award-winning PR video (and other videos) and my web portal, articles, speech content, and print/online advertising. The impact of her creativity and strategic advice on my business has been transformative. When I saw her interview industry luminaries for one of my videos, I knew that she was brilliant at conceptualizing and creating the tools to build, maintain, and grow a brand identity."
SMG Owner Bill Bowen was equally thrilled that Karen M. Greenwald's "Landing Page," inviting web surfers to "Rewind, Relive, and Rejoice!" with their videos garnered an award, "We had heard rave reviews about Karen and The Burbank Group for years. She helped us redefine a 25 year old family business into its expanded twenty-first century self. As a video company, we had a specific challenge. Karen created a look, feel, and concept that immediately, powerfully addressed this on the homepage and made it resonate throughout our site. She also helped us to visually and verbally define a new branch of Suburban Media Group online that we will soon launch. We hired her for her expertise and are thrilled with the results of her efforts."
The 2012 panel of international judges included highly accomplished industry leaders in the United States, Italy, Kuwait, Hong Kong, China, Canada, and Kazakhstan. Using a stringent set of standards, they looked for "innovative and creative concepts, strong executions, and the ability to communicate and persuade."
A global range of companies competed this year, hailing from: Australia, Austria, Bulgaria, Canada, Chile, Denmark, Germany, Greece, Hungary, India, Kazakhstan, Malaysia, Mexico, Northern Ireland, South Africa, Spain, Sultanate of Oman, Sweden, United Arab Emirates, United Kingdom, and United States.
For the past eighteen years, the competition has been the premier arbiter of creative excellence for firms billing under $30 million. "Winning a Summit Creative Award is a significant accomplishment in one's career. The combination of scrutinizing judges and tough judging criteria ensures that only deserving entries receive Summit recognition," said Jocelyn Luciano, Executive Director for the Summit International Awards.
ABOUT THE BURBANK GROUP, LLC.
Located in Rockville, MD, a Washington, DC suburb, The Burbank Group is a premier brand identity boutique. We work with domestic and international clients. Our fresh, imaginative solutions memorably define, strategize, and deliver your message via award-winning creative video direction, print and digital content, brochures, websites, media work, and logo design, marketing counsel, and sophisticated flash movie creation and production. The Burbank Group's persuasive and inventive solutions focus on your ultimate goals. From the entertainment and event industry, technology firms, educational institutions, and attorney clientele to the hospitality industry and everything in between, The Burbank Group helps clients get the attention they deserve.
For more information, visit: burbankgroup.net
ABOUT THE INTERNATIONAL SUMMIT CREATIVE AWARDS
The Summit Creative Awards recognizes worldwide work of advertising, interactive, video production, graphic design and public relations companies with annual billings under $30 million. Entries are judged by global communications leaders against a stringent set of standards by an international body of judges. This year's entrant companies came from 5 continents and 22 countries.
For more information, visit: summitcreative.net
ABOUT ANDY KUSHNER ENTERTAINMENT
Andy Kushner Entertainment is a full scale agency that owns award-winning bands, SoundConnection, Marquise, SoundNation and theVIPS, AKE also represents select high-end bands, MC's, DJ's, dancers, and a variety of other types of acts, including nationally known performers. A winner of Modern Bride'sTop 25 Trendsetter's Award, Entertainment Designer Andy Kushner offers event consultation and also production services. Precise attention to scale, budget and personalization is AKE's hallmark. For corporate and milestone events, performances are tailored specifically to client needs.
For more information, visit: andykushner.com
ABOUT SUBURBAN MEDIA GROUP
Suburban Media Group (formerly Suburban Video) has a reputation for being innovators and leaders in their industry. Founder Bill Bowen's professional, degree certified associates have each been with the company for one or more decades. Known for superior personal service, Suburban Media Group offers custom packages and a la carte options such as: multiple cameras, true HD on Blu-ray, highlight films, movie trailers, same-day edits, photo-video montages, projection, web casting of film, and much more.
For more information, visit: suburbanmediagroup.com