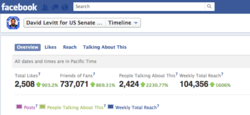 People are so excited. For once, it's not about voting for the lesser evil. We can be rewarded for voting for what we really want.
Sebastopol, CA (PRWEB) May 23, 2012
In California's US Senate primary race, Facebook and other online activity suggest that David Levitt, the black computer scientist, has taken a strong lead during the past week. Levitt's Facebook page has received thousands of Facebook "Likes" in the past few days, often several per minute, with Fan activity far beyond the pages of any other candidate in the race. Each candidate seeks to be the second winner alongside Senator Feinstein in the June 5th primary. The top two vote getters will appear on the ballot in the November general election, regardless of party.
With 24 candidates, no TV ads, and very few polls and reports to go on, Facebook activity and web searches are among the few ways to gauge progress in California's US Senate race this spring. A Public Policy Polling survey the week of April 1st showed Senator Feinstein with 51%, no one else with more than 2%, and 30% undecided. The report's conclusion - "Impossible to Know Who Will Face CA Senator Dianne Feinstein In November; None of Her 23 Primary Opponents Register on Radar" - has never been updated with another poll.
At the time, Levitt and candidate Dianne Stewart were Feinstein's unknown Democratic runners up, both scoring 1%. (The other Democrats scored 0%.) In the past week, Levitt has attracted thousands of new Facebook Fans or "Likes", while Stewart has just 16, suggesting Levitt is now by far the leading Democrat behind Feinstein.
Levitt also appears to be overtaking the best funded Republican candidates. By the weekend Levitt's Facebook support had far exceeded Dan Hughes' 1587 Likes and 298 visitors "talking about this", the Facebook measure of online engagement.
As of Tuesday night, Levitt's 2,700+ Likes, 1,744 talking about this, and ongoing steep growth curve suggest that on Facebook he will overtake the party-endorsed Republican Elizabeth Emken as well. She has more Likes but much slower growth and just 585 'talking about' her campaign.
The enthusiasm for Dr. Levitt stems from his status as a scientist, fellow citizen and political outsider, and from his popular stances -- on issues like marijuana legalization and regulation, leaving Afghanistan immediately, Medicare-for-All, and other policies that most Democrats and Republicans don't dare endorse or even discuss. Says Levitt 2012 campaign manager Sheila Harden, "David is attracting very enthusiastic younger voters, as well as older progressive Democrats who feel party leaders like Senator Feinstein have been betraying them."
Levitt has attended multiple debate-style "Meet the Candidate" events, posting videos of his own and other candidates' appearances. He has aimed to demonstrate his leadership by challenging falsehoods, building consensus where possible with GOP and Tea Party audiences, and proposing investments in America's future -- rather than education cuts, more war abroad and austerity at home.
Along with posting video, Levitt has communicated with the public throughout the race. Searches in Google, Yahoo and Bing for US + Senate + California + 2012 show general information about the race and then Levitt's videos, endorsements, and campaign tour before any other candidate.
"As June 5th approaches, our challenge is to let voters know the very progressive Democrat David Levitt is running -- surging in fact -- and to help them understand that under the new rules, their usual reflex -- to vote for the Democratic incumbent -- is dead wrong this time," says Harden.
Levitt clarifies. "California is a blue state, and there's no separate Republican primary this year. The only way a Republican like birther Orly Taitz can get on our November ballot is, if every Democrat votes for Senator Feinstein. This year THAT's the spoiler scenario -- NOT splitting up the vote! In a top-two race where one Democrat already has 51%, smart Democrats want to spread their votes across two candidates and have two Democratic choices in November -- instead of a choice between what we have now and something much worse.
"That's why people are so excited. For once, it's not about voting for the lesser evil. We can be rewarded for voting for what we really want."
The David Levitt for US Senate Campaign Committee is based in Sebastopol, California.
Like http://www.facebook.com/Levitt2012
Follow @Levitt2012
Give http://Levitt2012.org/donate
Vote.