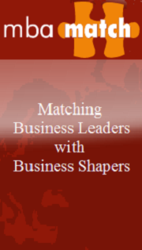 Promises to help MBA degree holders increase their MBA job opportunities while assisting employers find other ways to help them maximize their time, reduce cost and enhance their business with MBA candidates.
Hampshire, England (PRWEB) May 23, 2012
An MBA or Master of Business Administration is one of the most prestigious degrees of higher learning in the world. Mbamatch.com is a website which is run by experts: in MBA job search and in the career development of MBA degree holders and students. It is an organization which understands the needs of the MBA world and also the psyche of people who aspire to be exceptional in their respective fields. The organization has helped many MBA holders and both current and future MBA students land their 'dream jobs' and build their careers more quickly and efficiently.
MBAmatch has made great improvements for their MBA members listed below.
For Our Members:
The 2012 MBA salary survey
Free downloads of the latest eBooks
Exclusive packages at discount price
Enhanced CV creation and presentation
Mbamatch.com has also been a pioneer in helping many different companies throughout the business world to meet their recruitment needs. Hiring dynamic, talented and performance-driven individuals for managerial positions and key development roles is vital for all types of business: mbamatch.com has been able to assist these companies to quickly and cost-effectively find people to manage, lead and operate all kinds of projects and processes. Mbamatch.com is an independent organization which was founded in 1999 when it launched as Web Match Services International Ltd. In 2012 they are excited to offer employers and recruiters from around the world even more benefits and facilities to enable them to secure the employees they need.
For Employers and Recruiters:
Targeted access to thousands of MBA candidates
Time-saving search facilities
New ways to reach the passive MBA market
Bespoke opportunities to recruit
MBAmatch will be launching these and many more key facilities and features – for the benefit of everyone involved in the MBA world – throughout 2012. Johann Diaz, the owner of MBAmatch, "promises to help MBA degree holders increase their MBA job opportunities while assisting employers find other ways to help them maximize their time, reduce cost and enhance their business with MBA candidates."