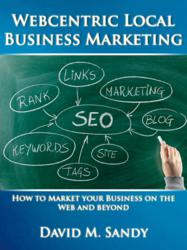 Memphis, TN (PRWEB) May 22, 2012
Traditional and Contemporary Marketing Tools - The book focuses on the local search engine optimization, or SEO, as a tool, but Sandy also discusses most forms of advertising tools in it. One such tool is the Yellowpages, which is usually ridiculed by internet marketers but is still useful for small businesses.
Lead Generation and Measuring Results - Sandy drew his cases from ranking his site on Google, at times ranking #1 for many competitive local terms, and by using a variety of lead generation services. In the book, he shows why it is important for small businesses to be aware of lead generation services which use intense telemarketing to target small businesses. In the section "How You're Going to Get Ripped Off", he reminds business owners that "you get what you pay for if you're really lucky". The book also discusses how to determine best methods and tools in promoting a business, such as categorizing the business as fun or not fun, or measuring the frequency of customer visits. (A high fun factor, for example, and frequency of visits such as in restaurants, can indicate that a social media strategy can be an especially important influence the business' performance.)
Dangers of Negative SEO and Other Pitfalls - The book warns of the dangers of negative SEO and manufactured fake reviews by competitors as marketing tools. Sandy also lists link building technique but is quick to add that "the best link opportunities can change constantly" and may "quickly become dated".
"I've also found that a lot of SEO and internet marketing books can become glorified users manuals, which is unfortunate because books aren't the best place to put brief technical instructions" he wrote. He plans to place instructional videos on needed topics on the site of his consultancy Critwit, which he states should both be more effective than including the content in the book and allow the book to concisely convey the big picture.
Not a Book for Specific Niches - The book stopped short of discussing SEO for specific niches such as law or real estate. David explained: "I've found that lots of SEO consultants trumpet a particular area of focus primarily for marketing purposes. The basics of SEO are the same for most niches except for possibly real estate where the display of a large number of temporary listings makes overall domain authority more important. I get over half my leads from my site http://www.memphishomes.pro from property listing pages that don't have any links, that won't happen for any other area."
The book Webcentric Local Business Marketing: How to Market Your Business on the Web and Beyond is available through Amazon.com as a Kindle edition for $3.50 for a limited time only. A printed version is also available for $13.95.
About David Sandy
David Sandy practiced Bankruptcy and Divorce law for five years. He quit the practice of law and now works as a real estate agent with First National Realty in Memphis, TN working internet leads and helps other small businesses through his local SEO consultancy Critwit.
For Further Information Contact
David Sandy, Memphis Realtor(tm)
6423 Summergale Dr. Suite 200
Memphis, TN 38103
901-231-1380