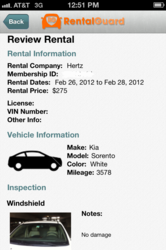 an easier way to document my rental car
Seattle, WA (PRWEB) May 23, 2012
4 Development, LLC announced today that their first travel app, RentalGuard, is now available exclusively for iPhone. RentalGuard, the first app of its kind, provides a quick and easy process for travelers to digitally document the condition of their rental car and publish an evidence report to refute any wrongful damage charges by a rental car company.
RentalGuard simplifies the digital documentation for travelers and provides clear evidence of the condition when they returned their rental. Travelers first start by creating a rental and providing some basic information such as the type of vehicle, make and model, price, and any options they've added like a GPS or child car seat. Next an initial photo inspection process is done and a photo is taken of each exterior side of the vehicle, including the roof, and any damage notes can be added to each photo. The traveler can also opt to include a set of interior photos if they would like. When returning the vehicle, the traveler can then do a final inspection by doing another photo inspection with notes. Once complete a final report can be emailed to the traveler or others.
"Having been a victim of having to pay a rental companies wrongful damage charges, I thought there had to be an easier way to document my rental car than taking pictures with the current newspaper," said creator Michael Solheim. "We created this app to make inspecting and documenting a rental vehicle simple and quick with the end product a concise PDF report that includes all of the date stamped photos, damage notes and rental information that can be emailed, " said Solheim. " In the event a user receives a damage bill or notification from a rental company, all they need do is provide the report as proof of the vehicles condition while it was in their possession."
RentalGuard is now available at a special launch price of $0.99 in the U.S. and is priced accordingly in other regions. RentalGuard is available world-wide from Apple's App Store for iPhone or by visiting: http://www.rentalguardapp.com
Please visit http://www.rentalguardapp.com/press.html for more RentalGuard information, including screenshots of the app.
4 Development, LLC, an independent app creator based out of Covington, WA, was formed in 2011 by Michael Solheim for the purposes of creating simple and useful mobile applications.