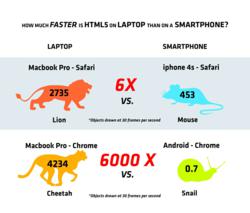 Burlingame, CA (PRWEB) May 22, 2012
With HTML5 offering the potential for a single application development language, deployable across any browser and device, a growing number of companies and VCs are betting heavily on the technology. Today, spaceport.io has released the second iteration of its PerfMarks Report, meant to address some of the disconnects in the tech community around the current state of HTML5 performance on mobile phones.
The PerfMarks II Report, available here, compared the ability of modern mobile phones and laptops to render HTML5. The surprising result – which found that HTML5 runs on phones like the Apple iPhone 4S and Samsung Galaxy Nexus, at best, six to ten times slower than on a modern laptop – casts doubt on the notion of today's smartphones supporting more complex HTML5 games.
The PerfMarks II Report tested a device's capability to support HTML5 games by assessing its ability to animate image movement – a key measure of game performance. Specifically, PerfMarks II compares HTML5 performance between modern smartphones and laptops by measuring the number of moving images on a screen at 30 frames per second (FPS), a frame rate that provides a near-native user experience.
Repeated tests, using a variety of animation techniques, show that while modern iOS and Android smartphones can handle simple HTML5 games like blackjack and Scrabble, complex games and applications are much further down the road:

The PerfMarks II Report shows that the best iOS and Android smartphones ran HTML5 8X slower than a laptop computer, on average.
The best iOS smartphone (Apple iPhone 4S) ran HTML5 6X slower than a modern Mac laptop, while the best Android smartphone (Samsung Galaxy S2) ran HTML5 10X slower.
Samsung Galaxy S2 tops Samsung Galaxy Nexus as the best Android phone to run HTML5.
Overall, these additional benchmarks show Android HTML5 performance falling further behind iOS, with iOS roughly 7X better than Android.
On average, the smartphones tested ran 889x slower than a laptop, with some running HTML5 thousands of times slower.
For more findings and conclusions, visit http://spaceport.io/community/perfmarks
"Cross platform mobile application development is currently the holy grail of the industry, seeking to move beyond the walled gardens of app stores. Although HTML5 is getting faster over time, the performance on mobile devices and browsers is still sorely lacking for the development of more complex applications," says spaceport.io founder Ben Savage. "This spaceport.io PerfMarks report will help both browser creators and app developers know what to push for in terms of HTML5 technology necessities."
The PerfMarks II Report builds on the initial PerfMarks Report released in March 2012. PerfMarks were created to establish a series of objective benchmarks for judging HTML5 game performance across mobile operating systems and browsers. The formation of these benchmarks seeks to help create industry standards around HTML5 to better inform developers and ultimately meet consumer quality standards of free, paid and free-to-play content.
The PerfMarks Report series was presented at the 2nd Annual HTML5 Game Developer Conference, was held on May 21 in San Francisco, where spaceport.io is the platinum sponsor.
To learn more about the spaceport.io PerfMarks Report visit this link.
To learn more about spaceport.io's industry-leading HTML5 game development platform, visit: http://www.spaceport.io.