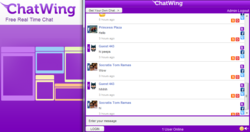 Jacksonville, FL (PRWEB) May 22, 2012
Jacksonville, FL – When it comes to casual gaming, Yahoo Games is an unstoppable powerhouse. This is because of the actual number of gamers that have bought the games of Yahoo. Everyday, new gamers would visit Yahoo's gaming site in order to purchase casual games. Others are contented in just playing the games online. Lately, a lot of these Yahoo gamers have been visiting a blogger-friendly chat widget known as Chatwing. Yahoo gamers prefer Chatwing because of its unique communication features.
The Chatwing research team has observed that Yahoo gamers usually talk about Yahoo's elite games such as Bookworm, Farm Frenzy, Text Twist, Gems Twist, Bejeweled and many more. The Yahoo gamers are also looking for friends in chatrooms to exchange games with. "Yahoo Games will never die or wither. Yahoo has more than one thousand games that players can always discover and re-discover. Here in Chatwing, we believe that better communication can help these Yahoo gamers get their dig. We are working round the clock to ensure that Chatwing users get a better chatting experience all the time," Says Michael Diamond, one of Chatwing's head developers.
Chatwing's shout box is built in a simple yet versatile chatting platform. Through Chatwing, users can log in with their Facebook accounts. This is useful for people who are looking for simple ways on how to expand their social horizons. For Yahoo gamers, this is another opportunity to find gaming tips and updates. Efficient website chat is also one of Chatwing's strong features. A lot of bloggers have been using the widget lately in order to find more guests and visitors for their blogs. The bloggers have noted that Chatwing turned the blog into an active chatting lounge in just few days.
Easy installation is also a facet that is promised by Chatwing. Now, users can install Chatwing in just few seconds. They can also modify the appearance of the web chat box. Chatwing's developers have recently advised their users to keep the widget appearance in sync with the overall look of their blogs. This ensures maximum visibility increase.
About Chatwing.com
Chatwing.com has developed live chat software for websites and blogs. It caters to different online communities due to its high rate of connectivity. Everyone can create a customizable live chat box in 1 minute or less. Users have the ability to customize the size, color, and fonts of the chat product. The ability to chat via social media accounts such as Facebook and Twitter enable Chatwing to offer a personal and unique real-time experience to all sites. http://www.Chatwing.com is 100% free and very easy to use.