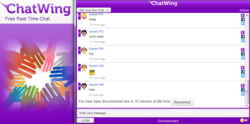 Milwaukee, WI (PRWEB) May 22, 2012
Despite the popularity of social networking sites such as Facebook and Twitter, some people are still using Google+. This is based on user reviews and recommendations that were collected over the Internet. People who want to get the most out of their communication experience prefer Google+ because it offers different global options. Lately, Google+ users have been hanging out in a global web chat tool known as Chatwing. This tool has recently been gaining ground in the blogosphere because of its innovative chat options.
Chatwing's latest version is tweaked to deliver optimum performance. It can handle up to a maximum of 600 users discussing a wide range of topics. Adding to that, Chatwing users can take advantage of social media. Now, they can log in with their Facebook accounts. Users logged in with Facebook will be able to send out and receive friend invitations. Since Google+ users favor communication a lot, Chatwing can help them expand their social circles. Chatwing's shout box also features a wide array of emoticons and avatar displays to make discussions more interesting and fun.
Since Chatwing empowers the premise of website chat, many bloggers have already signed up. This is because of Chatwing's potential to increase a blog or website's visibility. While the percentage of increase may vary, it will improve over the course of time, especially if the blog contains interesting and wonderful content. Chatwing does this by turning the blog into an active chatting lounge where everyone can talk about different topics. Recently, Chatwing chatbox has branched out to various online communities such as gaming, lifestyle, trends, and even animation sites.
In order for Google+ users to make the most out of their blog chat experience, Chatwing allows them to modify the chat widget. After registration, users can now change the appearance of the tool in order for it to be more synchronized with the blog. This customization phase takes only a few seconds so Google+ users can now spend more time in finding new friends.
About Chatwing.com
Chatwing.com has developed live chat software for websites and blogs. It caters to different online communities due to its high rate of connectivity. Everyone can create a customizable live chat box feature in 1 minute or less. Users have the ability to customize the size, color, and fonts of the chat product. The ability to chat live via social media accounts such as Facebook and Twitter enable Chatwing to offer a personal and unique real time experience to all sites. Chatwing is 100% free and very easy to use.