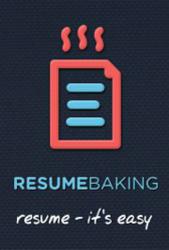 Resume creation must be simple, quick, cheap and effective
(PRWEB) May 24, 2012
Having launched the website not long ago, ResumeBaking managed to win the hearts of many job seekers. According to the latest survey conducted among the group of 1058 diverse site users, its utility and convenience were marked with 9.41 points out of 10. When asked the reason for conduct of such a study, ResumeBaking.com owners answer that "…it's important for us to find out the opinion of our customers about the site's service in order to adjust our tips and resume building functions to the demands of the clients". ResumeBaking.com can boast not only motherly care about customers' needs but also a big amount of satisfied employees from various professional backgrounds, who daily leave on the site their positive comments, which prove the high level of company's credibility among the users.
A constantly growing number of resumes (now it has come over 3000), created with the assistance of ResumeBaking.com tips, can be the best index of site's productivity. The motto of the website owners says "resume creation must be simple, quick, cheap and effective". This slogan is fully applicable to the resume builder offered by the site. A traditional drawn-out procedure of resume writing has been ultimately simplified by optimized resume templates. Even an amateur resume writer will be able to navigate and, what is more important, understand all the stages of resume creation process.
For those who stick to a more traditional approach to resume writing, ResumeBaking.com has stored numerous resume tips and advice on resume and cover letter composition. Having read carefully designed instruction written by mature professionals, an applicant will receive a clear picture of all the milestones of a successful job-hunt from the resume writing and up to behavioral strategies at and after an interview. ResumeBaking.com has not only prepared resume and cover letter samples for different job fields, the company's service includes viewing real resumes of site users, who have already became happy employees and thus can share valuable experience with the rest of applicants.
Besides professional assistance at the resume writing stage, ResumeBaking.com introduces a number of options to guide an applicant up to the moment of job landing. Website's owners confess that "We still remember how hard it was when having created all the necessary documentation, you find yourself at a loss not knowing what to do next. We try to accompany our customers through the whole application process and foresee any questions that may arise during this complicated period". ResumeBacking.com caters for different tastes and needs of applicants and offers an opportunity to choose a suitable service package: Lite, Basic or Premium. Although the price of packages is surprisingly low, ResumeBaking.com grants a discount to those clients who will present a coupon when purchasing the premium package. The secret code number mentioned at the beginning of the article is: RB-PREMIUM and it will open a vast range of resume creation possibilities at the lowest price. Among the functions included into the packages are: saving resumes to PDF, professional resume templates, sharing resume and cover letter via e-mails and social networks, receiving messages from the employers, job search via such job boards like Indeed, CareerBuilder, SimplyHired, Authentic Jobs, cover letter builder, job offers notifications, resume statistics and analytics. The latter option will enable an applicant to track the popularity of his\her resume, receiving notifications about the number of employers who have viewed or downloaded the resume.
For more information about ResumeBaking opportunities visit ResumeBaking features page