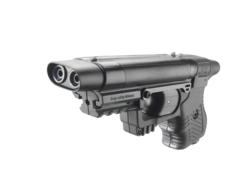 The JPX Pepper Gun is using a patented non-aerosol propulsion system.
Scottsdale, AZ (PRWEB) May 25, 2012
U.S. Distributor US Personal Defense Products and Piexon, a Swiss based manufacturer of state-of-the-art less-lethal weapons have launched a new website about their flagship product - the JPX Pepper Gun - dedicated to the US market.
The United States crime rate has grown dramatically with the slowing economy and violent crime is on the upswing. Pepper spray has been a mainstay self-defense product due to its effectiveness on a perpetrator.
Recently, there was a shooting in Florida that has caught the media's attention. A person used his gun on an unarmed individual raising a media frenzy over excessive force. "This episode should raise concern to anyone carrying a gun for self-defense," says Tom Babilla of US Personal Defense Products. "In most states it's perfectly legal to carry a gun, but rarely are you allowed to justify using it. Defense attorney's are very expensive and typically don't give refunds if you are found not guilty."
Unlike a standard canister spray, the Piexon JPX fires only pure liquid pepper reducing risk of potential damage to anyone hit with it. People should consider carrying a less-lethal alternative just for this reason. "If you want to carry a gun, this is the ideal option. It looks like a gun, feels like a gun, carryies like a gun, but without the issues that come with using a gun. This less-lethal device provides superior stopping power at a maximum range of 23 feet. Carrying the JPX will give you peace of mind when you are away from your home and feeling unprotected." says Babilla.
One of the real advantages of the Piexon JPX Pepper gun is that it is not considered a firearm and legal to carry in most states. There is no registration requirements in most states making it available to anyone of legal pepper spray age. Its patented non-aerosol propulsion system coupled with the hottest pepper formula in the market make the JPX the most powerful, most advanced pepper defense system on the planet. The pepper spray is delivered at 405 mph up to 23 feet much further than any conventional pepper spray canister. The pepper spray is twice as hot as most law enforcement sprays at 2.4% major capsaicinoid concentration and 4,500,000 Scoville Heat Units. This offers a substantial advantage over canister pepper sprays. Users can hit a target quickly from a reasonable distance and most importantly, they don't have the wind blowback problem that people will encounter with most canister sprays.
Due to it's non-lethal nature, the JPX is extremely effective not only against human perpetrators but also against animals. Most animals are moving quickly in an attack and a conventional pepper spray may not stop them in time.
The pistol design speeds training and ensures an accurate delivery to the target even in windy situations. Think about taking a canister spray and aiming it at a charging dog or coyote. The user needs something that fires with velocity to hit your target to stop them in their tracks. Each cartridge contains two pepper charges, and quickly snaps on the frame. The JPX is shockproof, waterproof and extremely durable even in very hot climates. The JPX frame is available in black, orange or OD green color. As an option the JPX frame comes with an integral laser sight.
The new website provides comprehensive information on the JPX Pepper Gun and its underlying proprietary technology. Visit: http://www.jpxpeppergun.com
About U.S. Personal Defense Products: USPD is the distributor of less-lethal gun manufacturer Piexon Ltd. of Switzerland located in Scottsdale, AZ