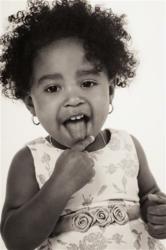 Her ability to take direction was outstanding
London, UK (PRWEB UK) 22 May 2012
A child model is born with the brand-new modelling portfolio launched by http://www.lamodelondon.com
Lucia Anne Dujon is as cute as a button. Her brand new portfolio pictures reveal her personality, her childlike behaviour and her delectable character. Clearly loving her studio performance, Lucia amazed the experts at La Mode London, the model advice specialists in the midst of manic model mayhem, by bringing the studios to a standstill. As she posed perfectly, a model seemingly much older than her 24 months, stunned and amazed her audience.
'Lucia was absolutely amazing', says Helen Smith, director for La Mode. 'On the one hand, she is so adorable, a gorgeous toddler whose appearance is so angelic and childlike, but she absolutely stunned us. We're seasoned pros here. We've seen all ages of models pass through our doors but we were all impressed with her maturity. Her ability to take direction was outstanding for a child that age - a child who hasn't modelled before. We had no tears or tantrums and Lucia clearly loves posing in front of the camera.'
With favourite programs such as Peppa Pig and Charlie and Lola, Lucia is clearly a typical two-year-old, but her model application shone through in her penchant for dancing and singing, and also her taste in music according to La Mode. With Beyonce and Rhianna being her favourite disco divas, she proved she loved watching them while dancing along as they performed in their music videos and the cameras flashed away.
'A child who has got rhythm and who clearly loves music, has the makings of being a model definitely,' continues Helen.' Modelling is all about movement, and especially as they get older, a child becomes very self-conscious. We try to encourage them just to have a fantastic time, find out what their musical styles and preferences are and play them loud in the studio. We were all dancing along with Lucia and I think everyone of us fell in love with her that day.'
Lucia's parents explain that she really enjoyed the attention and fuss given to her by the photographers and hair and make-up designers at La Mode,
'She is a very contented child and loves dressing up and getting her hair done,' said Lucia's mum.' She loves pretending to be like her mummy and so I believe she will be a very successful child model. Although she is only 24 months, she follows instructions very well and her attention and co-operation given to the professionals was outstanding.'
It seems Lucia is a natural in front of the camera, and her enjoyment is definitely infectious. La Mode explain that not every child is cut out for modelling and if a child is particularly shy, then bringing them to a very busy modelling studio can stop a career before it even starts. There were no worry is here where Lucia was concerned, it seems. A good time was certainly had by all and the photographs of this gorgeous little girl certainly show off her photogenic appearance and are assured this fairytale will have a happy ending.
'Modelling agencies are always on the lookout for new faces and if a child model can stand out from the crowd and has got what it takes, then hopefully they will be able to do well,' say La Mode. 'We certainly wish her and her family all that best luck in the world.'
Get a real insight into Lucia's enjoyment of the day and check out her new portfolio and accompanying show reel as you watch her dance and pose in front of the cameras at http://www.lamodelondon.com