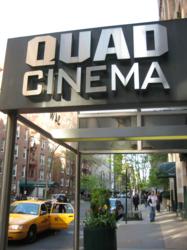 New York, NY (PRWEB) May 23, 2012
Known for almost 40 years as a premiere New York art house showing the very best in feature, documentary and foreign films, the QUAD Cinema is now launching a special screening series highlighting the great classic films of years past.
The QUAD Classics program is proud to showcase groundbreaking and innovative classic American & foreign films that both reflected their own cultural heritage and had the mass appeal and power to introduce that heritage to audiences worldwide during the exciting heyday of the silver screen. Select screenings will be followed by a discussion with NY based film critics and scholars.
The QUAD Classics program begins this Friday, May 25th and runs thru May 31st. The theme will be The Great Era Of Silent Films.
Elliott Kanbar, President of the QUAD Cinema said:
"This year's Academy Award winning film 'The Artist,' brought to our attention how witty and enchanting these silent films can be. Building on that, I'm excited to launch this new program at the QUAD Cinema to re-introduce New York audiences to these great classic works of art, which have now been immaculately restored."
The first QUAD Classics program is proud to present the three masterpieces of the Silent Era:
The 2010 restoration of Fritz Lang's sci-fi epic Metropolis (1927), Sergei Eisenstein's 1905 Russian Revolution drama Battleship Potemkin (1925), and Buster Keaton's Civil War comedy The General (1926).
Film descriptions, Q&A / speaker info, and daily showtimes for QUAD Classics from May 25th thru May 31st is as follows:
METROPOLIS (1927). Directed by Fritz Lang.
"Classic silent-film fantasy of futuristic city and its mechanized society, with upper-class young man abandoning his life of luxury to join oppressed workers in revolt... Startling set design and special effects command attention throughout." Leonard Maltin's Movie Guide.
Incorporates more than 25 minutes of newly discovered footage. (2010 restoration)
Running time: 2:28. Showtime: 7:00
Post-screening discussion with New York Magazine film critic Bilge Ebiri and NYU professor & film critic William Wolf after the 7pm screening of Metropolis on Friday, May 25th.
BATTLESHIP POTEMKIN (1925). Directed by Sergei Eisenstein.
"Landmark film about 1905 Revolution. Unlike many staples of film history classes, this one has the power to grip any audience. Odessa Steps sequence is possibly the most famous movie scene of all time." Leonard Maltin's Movie Guide.
Running time: 1:09. Showtimes: 3:00 & 9:45
Post-screening discussion with NYU film professor Nick Tanis, and Wall Street Journal Greater New York arts reporter Bruce Bennett after the 3pm screening of Battleship Potemkin on Saturday, May 26th
THE GENERAL (1926). Directed by Buster Keaton.
"Keaton's best, and arguably the greatest screen comedy ever made.
Against a meticulously evoked Civil War background, Buster risks life, limb and love as he pursues his beloved railway engine, hijacked by Northern spies up to no good for the Southern cause. The result is everything one could wish for: witty, dramatic, visually stunning, full of subtle, delightful insights, and constantly hilarious." Time Out New York Film Guide.
Running Time: 1:18. Showtimes: 1:00 & 5:00
Post-screening discussion with New York Magazine film critic Bilge Ebiri, and Wall Street Journal Greater New York arts reporter Bruce Bennett after the 5pm screening of THE GENERAL on Saturday, May 26th
All Q&A's will be moderated by independent film producer and distributor Isil Bagdadi from CAVU Pictures.
Metropolis, Battleship Potemkin and The General are being screened courtesy of KINO LORBER.
All films will be projected in full High Definition Blu Ray using a high-end Eiki LC-X85 projector and OPPO BDP-93 player.
Advance Tickets can be purchased by calling 212-255-2243.
ADMISSION: Adults- $11.00 Senior Citizens (62+) - $8.00
IFP & NYWIFT members- $8.00
For press inquiries contact:
Isil Bagdadi, CAVU Pictures/ CAVU PR
Tel: 212-246-6300, Email: cavupictures(at)aol(dot)com