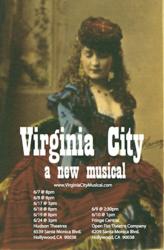 Hollywood, CA (PRWEB) May 23, 2012
The Wisehart brothers will premiere their Mark Twain musical VIRGINIA CITY at the Hollywood Fringe Festival in June.
VIRGINIA CITY is a new musical about finding your voice.
A young drifter named Sam Clemens lands a job as a reporter in an Old West mining town. Inspired by a visit from a scandalous showgirl, Sam finds his voice and becomes Mark Twain.
"My brother and I lived in Virginia City when we were kids," said David Wisehart, who wrote the book and lyrics, as well as directed and produced the show, which his younger brother Daniel composed. "We became fascinated by the tales of Mark Twain's days in the Old West. He arrived in Virginia City as a failed prospector named Sam Clemens and left twenty months later as a successful writer named Mark Twain. What happened to him in Virginia City? How did Sam reinvent himself? How did a poor young drifter from Missouri become America's greatest writer? In telling the story of how Sam Clemens found his own voice, my brother and I also wanted to tell a universal story about people discovering who they are, reinventing themselves, and learning to live authentic lives."
ABOUT THE WISEHART BROTHERS
David Wisehart (Book Writer, Lyricist, Director, Producer) is a two-time veteran of the Hollywood Fringe Festival. Last year he wrote, directed, and produced a new one-act play, ENDGAME, which earned a Best of the Hollywood Fringe Festival award. For the first Hollywood Fringe Festival he wrote, directed, and co-produced VALENTINO: A PLAY IN VERSE. Since then he has directed: THE OTHER WISE MAN, a one-act opera with music by Damjan Rakonjak and words by David Wisehart; Gregory Craft's FRIENDS LIKE THESE; and Noel Coward's BLITHE SPIRIT.
Daniel Wisehart (Composer, Music Director) arranged the musicals AUTUMN ROSE and MISS LIBERTY. He scored the short film REBEL WITHOUT AN OZ and composed incidental music for VALENTINO: A PLAY IN VERSE. His commissions include a ballet, an acoustic guitar arrangement of Vivaldi's FOUR SEASONS, and the arrangement of numerous Christmas carols. He has also digitally engraved Renaissance and Baroque period manuscripts for affiliates of the University of Hamburg.
ABOUT THE SHOW
VIRGINIA CITY, A NEW MUSICAL
Music by Daniel Wisehart
Book and Lyrics by David Wisehart
Director and Producer: David Wisehart
Music Director: Daniel Wisehart
Starring: Jake Kropac as Samuel Clemens, Jennifer Bronstein as Adah Isaacs Menken, Tyler Olshansky as Rose, Till Wolter as Will, Owen Arthur Reynolds as John Piper, Richie Ferris as Joe Goodman, Jonathan Brett as Dan De Quille, and Xue Lian Lei as Betty.
Period costumes by Paula Soltero of PBS Costumes.
Running time: 90 minutes, no intermission
VENUES:
Hudson Theatres
6539 Santa Monica Blvd.
Hollywood, CA 90038
Fringe Central
Open Fist Theatre Company
6209 Santa Monica Blvd.
Hollywood, CA 90038
SHOW TIMES:
Thursday, June 7, 8pm (PREVIEW, Hudson Theatre)
Friday, June 8, 8pm (PREVIEW, Hudson Theatre)
Saturday, June 9, 2:30pm (PREVIEW, Fringe Central)
Sunday, June 10, 1pm (PREVIEW, Fringe Central)
Sunday, June 17, 3pm (Hudson Theatre)
Monday, June 18, 8pm (Hudson Theatre)
Tuesday, June 19, 8pm (Hudson Theatre)
Sunday, June 24, 3pm (Hudson Theatre)
Preview tickets: $12
Regular tickets: $20
Purchase tickets online at hff12.org/809 or at plays411.com/virginiacity