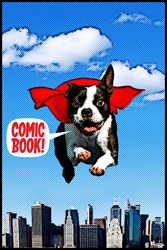 To me ComicBook!'s greatest new feature is PDF output. I can now create comics anywhere on my mobile device and later edit them on my computer with programs such as Adobe Illustrator. -Jeshua Lacock, Founder of 3DTOPO Inc.
(PRWEB) May 23, 2012
3DTOPO Inc. is pleased to announce that a new 1.5.0 version of ComicBook! is now available on the Apple iTunes App Store. ComicBook! was named as iPad Photo App of the Year 2011 by Apple, iTunes App of the Week in twelve countries, included in the App Store's Essentials collection, and has received many other honors and mentions.
The ComicBook! app is designed to allow a user to quickly and easily create a comic panel of their own content and design. ComicBook! features realistic comic styling with a wide selection of: image filters, comic fonts, customizable captions, a library of included classic comic graphics called "stickers" and dozens of multi-panel page layouts.
In addition to bringing native resolution to the new Retina iPad, the 1.5 version outputs comic pages in resolution independent PDF output. The ComicBook! PDF pages may be combined to create books and also edited in many popular graphic programs such as Adobe Illustrator.
In addition, the new version brings a "Toon" image filter, several improved "stickers", high-resolution (PDF based) printing, along with numerous other improvements. The existing comic image filters (Comic, Sketch and Manga) are the same effect although they now run 56% faster than before.
ComicBook! now offers a library of over 600 additional classic comic styled "sticker" graphics available as in-app purchases.
For more information, screenshots or to purchase click here.
Also, please see our User Gallery, and our website.