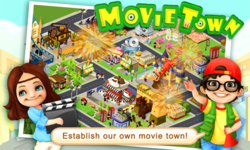 (PRWEB) May 29, 2012
Movie Town is a IOS simulation mobile game of X6 Game Corporation, which will realize people's dream of building a Hollywood Movie City!
From The Shawshank Redemption to Harry Potter, from The Ring to Titanic, 108 classic movies of more than 10 genres gathers for the first time, and the shooting graphics is both funny and beautiful.
Features

Construct different types of buildings, attract more residents, and shoot more movies!
Sad and beautiful love in Ghost, the terrifying Nightmare on Elm Street, the visual feast in Star Wars, the magical fiction of Lord of Rings... 108 classic movies of more than 10 genres, all in City of Movie!
The realistic movie shooting: shooting graphics can be replayed, and varies with different genres of movies, the fun is infinite; small budget, big budget and super budget films are available; director is the boss, and man can decide the star;
Collection system with rich content - poster of classic movies. The players will be rewarded with posters of classic movies once they've completed the shooting.
Buildings are divided into 5 functions, and dozens of models can be used.
With the brand new Popularity system, the city is more popular with more movies completed. When the popularity gauge is fully filled, a carnival is available and player's income will be doubled!
With the interesting achievement system, the players will be rewarded with green coins which don't cost real money, and the game costs can be charged with this right in the game!
With the Friend system, the players not only can visit their friend's city after adding a friend, but also can invite their friend to star in the film.
Search for Movie Town in the App Store or visit: http://www.x6game.org to learn more about it.
Also, welcome to X6 Game's official forum: http://www.x6game.org/forum
About X6 Game
X6 Game, one of the top mobile game developers in China which was founded in 2005, which is dedicated to the development of mobile games.
70 titles of various genres have been released by X6 Game since the date of its foundation, including the famous android mobile strategy game Dragon Kingdom,the fantastic IOS simulation game Movie Town and family game Pet Life, which are global oriented. X6 Game has received several media awards in the last 7 years, which represent the common acceptance from both users and partners. The company is currently actively seeking a share in the global market.
Follow X6 Game on
Facebook: http://www.facebook.com/X6Game
Twitter: https://twitter.com/X6Game