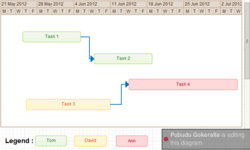 real-time collaboration is really making our customers happy. They've been waiting on this for a while and along with our existing team and project management capabilities, visual collaboration has become so much easier
Melbourne,Australia (PRWEB) May 23, 2012
Creately, A leading diagramming software provider in the world, released a major update introducing real-time collaboration to their software. The new version of Creately enables its thousands of users to collaborate on diagrams in real-time wherever they are in the world having simple access to a web browser.
Real-time collaboration enables you to see each others changes instantly while working on the same diagram. This capability is an amazing boon to any online meeting where having a visual aid and a common free form drawing space becomes essential to communicating effectively. This makes Creately the perfect for online meeting software like Skype, GoToMeeting and Google Talk.
To understand how real-time collaboration can help users to be more productive, imagine a project schedule meeting being discussed over a conference call. Typically a screen sharing session or an emailed version of the file would generally lead to frustration and confusion as people are not looking at the same thing and has no access to change and adjust the content.
However, as the above example, having a free-form gantt chart schedule via Creately visible for all, editable by all immensely helps the discussion along.
Diagram templates on Creately enable scenarios such as collaborating on project plan with a Gantt Chart, brainstorming with a mind map, defining process flows and doing software planning with flowchart software, wireframes and UML definitive clear and easy. End result is quicker and more effective meetings where everyone is on the same page. Below picture shows a meeting mind map starter template available for Creately users.
Attached is a mind map template that can be used for online meetings. Once the diagram is shared among the participants they can see the agenda and add or modify accordingly. During the meeting participants can expand on the mind map by adding actions, notes etc. The ability to visualize all this happening in real-time is extremely powerful and definitely increases the productivity of the participants as well.
Creately CEO, Chandika Jayasundara noted that "real-time collaboration is really making our customers happy. They've been waiting on this for a while and along with our existing team and project management capabilities, visual collaboration has become so much easier".
Thousands of Creately's customers are already using real-time collaboration and are experiencing transformative effects on their daily operations including better meetings.
About Cinergix
Cinergix is a Melbourne, Australia based start-up with its own research and development center in Sri Lanka. Founded in 2007 they launched in DEMO Falls 2008 as an online diagram software. Since then they have expanded to become a leading provider of desktop diagram software, Confluence, JIRA and Fogbugz plugins.