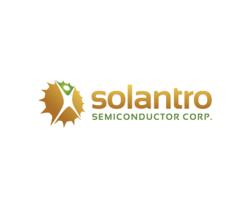 Working with sophisticated and visionary cleantech investors like Black Coral, Presidio, BDC and EDC proivdes ideal partnerships to bring our disruptive PV module integrated electronic chipsets technology to market." Antoine Paquin, CEO, Solantro.
Ottawa, ON, Canada (PRWEB) May 22, 2012
Solantro Semiconductor Corp. (Solantro) today announced the completion of its Series A Financing in the amount of $10 Million. This funding was led by Black Coral Capital, and included participation from Presidio Ventures (a Sumitomo Corporation company), Business Development Bank of Canada (BDC) and Export Development Canada (EDC).
Solantro designs, manufactures and markets semiconductor chipsets and Reference Designs for use within distributed Solar PV power conversion equipment. Solantro's chipset-based solutions redefine the economic model for PV module manufacturers while providing for higher energy yields and significantly reduced costs, time and complexity associated with PV system design and installation. Distributed, module-integrated, power conversion solutions accelerate the global deployment of Solar PV by optimizing the economics of PV installations.
Solantro has established product development partnerships with select, global PV module and Balance of System (BOS) manufacturers to drive the availability of intelligent power conversion (dc-optimizer, nano-inverter and micro-inverter) solutions in a highly-integrated, scalable form-factor to cost-effectively address traditional c-Si, BIPV and Thin-Film module integrated electronics in power ratings ranging from 50W to +300W.
"The Solantro team brings a wealth of unique experience and a track record of success in power conversion, RF communications and semiconductor integration to bear to a very important market segment. Highly integrated, chipset-based solutions are acutely required to drive the economics of renewable energy solutions. Solantro is leading the way along this path," commented Christian Zabbal of Black Coral Capital.
"Working with sophisticated and visionary cleantech investors such as Black Coral, Presidio, BDC and EDC provides us with ideal partnerships to bring our disruptive PV module integrated electronic chipset technology to market. These partners share our innovative and compelling view of the evolution of the Solar PV marketplace," said Solantro's Founder and CEO Antoine Paquin.
About Solantro Semiconductor
Solantro is a world leader in developing chipsets and Reference Designs for module integrated electronics within distributed Solar PV solutions. Founded in 2009, the company has assembled a team of proven entrepreneurs with deep experience in system architecture, semiconductors, power conversion, RF and distributed communications systems. Solantro is working closely with select visionary partners and customers to fundamentally redefine the manageability, scalability, reliability and economics of grid-tied Solar PV installations through deployment of highly-distributed power system architectures based on solid-state innovations.
http://www.solantro.com
About Black Coral Capital
Black Coral Capital is a family office investing in the cleantech / renewable energy arena. Black Coral was set up in 2008 and has offices in NY, Boston, and Montreal.
http://www.blackcoralcapital.com
About Presidio Ventures
Founded in 1998, Presidio Ventures is the wholly-owned early stage investment vehicle of Sumitomo Corporation. We work to identify the most promising growth industries and partner with the respective leading startups. As a strategic investor, we work with our companies to expand their business in the Japan and Asia markets.
Presidio Ventures is comprised of ten investment professionals across offices in Silicon Valley, Boston, and New York, who split their time between new investment and business development for our companies. In addition, we are assisted by a team of dedicated business development professionals based in Sumitomo Corporation Tokyo.
http://www.presidio-ventures.com
About BDC Venture Capital
BDC Venture Capital is a major venture capital investor in Canada with more than $1 billion in current and planned investments. It is active at every stage of a company's development cycle, from seed through expansion, with a focus on innovative technology-based Canadian companies with high growth potential, which offer unique products or services and are positioned to become dominant players in their market. Investing primarily in companies involved in Energy/Cleantech, Health and Information Technology, BDC VC makes both direct and indirect investments, often through investment syndicates with industry partners. It also undertakes strategic initiatives and investments targeted at stimulating the Canadian venture capital and innovation ecosystems.
About BDC
Canada's business development bank, BDC, puts entrepreneurs first. With almost 1,900 employees and more than 100 business centres across the country, BDC offers financing, subordinate financing, venture capital and consulting services to 29,000 small and medium-sized companies. Their success is vital to Canada's economic prosperity.
http://www.bdc.ca
About EDC
EDC is Canada's export credit agency, offering innovative commercial solutions to help Canadian exporters and investors expand their international business. EDC's knowledge and partnerships are used by more than 7,700 Canadian companies and their global customers in up to 200 markets worldwide each year. EDC is financially self-sustaining and a recognized leader in financial reporting and economic analysis.
http://www.edc.ca