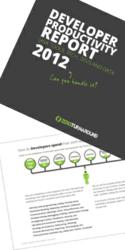 We gained insight into 12 areas of development tools and technologies, but also learned a lot about how Developers work, code, think and plan. -Jevgeni Kabanov, CEO of ZeroTurnaround
(PRWEB) May 23, 2012
ZeroTurnaround announces the latest release of the annual Developer Productivity Report 2012, a 30-page collection of results taken from a total sample population of 1800 survey respondents. The report contains four sections, each covering a different aspect of the developer work life and the tools/technologies they use most.
Part 1: Java Tools and Tech - 2012 roundup of Java programming tools and technologies
Part 2: Developer Timesheet - How do devs spend their work week?
Part 3: Developer Efficiency - What makes devs more/less efficient at work?
Part 4: Developer Stress - What keeps devs up at night?
"In addition to getting stats and data covering 12 areas of development tools and technologies, we also wanted to learn more about how Developers work, code, think and plan. So we went straight to the core of the matter and asked developers about how they spend their time at work, what makes them more/less efficient at their job, and what, if anything keeps them up at night," explained ZeroTurnaround CEO Jevgeni Kabanov.
Part 1 focuses on Java Tools and Tech and makes up the majority of the report, with market usage and coverage of popular tools and technologies such as Oracle WebLogic, IBM WebSphere, Eclipse, Jenkins/Hudson, Maven, Spring, Hibernate, Tomcat, NetBeans, Jetty, Groovy, Scala and many others.
Parts 2-4 focus more on the developer work lifestyle, and include in-depth interviews with well-known industry experts Martijn Verburg, Matt Raible and Lincoln Baxter III to help get a more rounded picture of "what makes developers tick".
"We tried to make this report as comprehensive as possible without making the survey itself impossible to finish due to length. For the most part, we found a nice balance," continued Kabanov.
Interested parties can sign up to receive the free 30-page Developer Productivity Report through ZeroTurnaround: http://zeroturnaround.com/blog/developer-productivity-report-2012-java-tools-tech-devs-and-data/