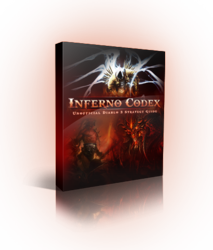 (PRWEB) May 22, 2012
On May 15th, the gates of Hell opened to set lose the legions of demons into the world of Sanctuary. Diablo is once again lurking a plan to bring down the Heavens and have his revenge on the Nehalem. As the guardians of the Light watch powerless how the prime evil grows in strength, only a group of five heroes stand between salvation and total destruction. Diablo 3 comes forth to continue the saga and take players into a new adventure to save the world once more (source: diablo.wikia.com/wiki/Diablo_III). To aid players on their quest to seek out and defeat the forces of evil, a Diablo 3 Boss Strategies guide is now available with Inferno Codex.
The guide itself covers multiple aspects of the game including class mechanics and specifics, quests and storyline, gear and most importantly, boss fights. Diablo 3 changed the mechanic of the boss encounters. The difficulty and abilities has been built to scale with the progress of the gamer. Bosses gain more abilities in Nightmare, Hell and Inferno difficulties making the confrontations more difficult to handle. The Diablo 3 boss strategies guide included in the Inferno Codex covers all these aspects and more. It teaches player exactly what they need to know to kill the bosses on all difficulties before the enrage timer kicks in.
Behind the guide, a team of professional players can be found that is continuously dedicating time to build a complete Diablo 3 resource. Unlike other similar guides, the Diablo 3 Inferno Codex was written by elitist players such as the members of the Ensidia guild in World of Warcraft. Their experience as players, dedication and better understanding of the RPG genre qualified them as the perfect choice for such a task.
Players will find a wide array of resources inside the Diablo 3 guide to help them on their quest for justice, glory and treasures. The Quest Guide will follow and lead players throughout the entire storyline in an effective manner. To improve their strength players will be able to master their character with the aid of the Class Guide and item optimization. Additionally a gold guide has been included to maximize the gold potential of the players. All these modules serve as a prerequisite to the final module that includes the all the boss encounters in the game on all difficulties. The Diablo 3 boss strategies guide serves as the ultimate handbook for every player that aspires to master endgame content.
More details can be found at http://infernocodex.org.