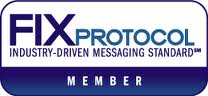 We have reached a significant amount of market data feeds and market execution venues supported by ETNA FIX Engine
New York, NY (PRWEB) May 24, 2012
ETNA Software announces the ability of ETNA FIX Engine to provide connectivity to 27 market execution venues and 10 market data feeds for financial software applications.
The software connectivity is provided using FIX protocol and custom APIs. ETNA FIX Engine can be integrated with any financial software on one side and can be connected to a market execution venue and market data feed on the other side.
"We have reached a significant amount of market data feeds and market execution venues supported by ETNA FIX Engine," said Roman Zhukov, CEO of ETNA Software. "The connectivity can be provided starting within 2 weeks' time period. We are open for other providers to integrate into ETNA FIX Engine."
The most demanded market execution venues supported are Bloomberg, CITI/AutoDesk, E-Trade, Fidelity, Goldman Sachs, Interactive Brokers, J.P.Morgan, Merrill Lynch, Morgan Stanley, TD Ameritrade and Trading Technologies.
The most demanded market data feeds supported are Barchart, eSignal, Interactive Data and SIX Telekurs.
The complete list of market execution venues and market data feeds supported is included on the company website at http://www.etnasoft.com/solutions/fix-connectivity.
About ETNA Software
ETNA Software is a technology solutions provider for capital markets and has been operating internationally for more than ten years. We create custom stock trading software and capital market technical analysis systems for financial market start-ups, financial technology firms, retail brokers, market makers, exchanges and individual traders. Leveraging nearshore or offshore outsourcing allows our clients to optimize project budgets, reduce expenses, and maximize both fiscal and organizational goals. ETNA Software Company is a proud member of FIX Protocol and our products have received prestigious Barron's Magazine Awards.
PR Contacts
ETNA Software
Alexander Kariagin, VP Business Development
+1.855.779.7171 x116
E-mail: ak(at)etnasoft(dot)com
http://www.etnasoft.com