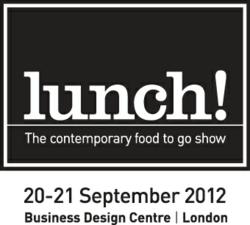 lunch! is much more than just a trade show, the innovation really sets it apart from its competition
(PRWEB) May 22, 2012
London, UK: lunch! – the UK's only dedicated trade event for the out of home food and drink industry – has now sold out of all available exhibition space at its new three-floor venue, the Business Design Centre, in Islington, London. The award-winning show will be celebrating its 5th anniversary edition on 20-21 September in great company, with more exhibitors now confirmed than ever before, says organiser Diversified Business Communications UK.
"The support from the industry this year, as always, has been phenomenal," says event manager Chris Brazier. "It's a testament to the show's continuing success that, with four months to go until lunch! 2012, not only have we sold 25% more stand space to fill the venue for this year but demand has been such that there's already a waiting list for companies interested in exhibiting in 2013."
Launched in 2008, lunch! 2012 will feature an unprecedented 225 companies showcasing a wealth of new products, packaging, equipment and technologies from across the food-to-go sector. Whilst lunch! has enjoyed increasing exhibitor demand from the outset, the show's pivotal focus on innovation has won it a loyal visitor following and a significant 38% year-on-year growth in total attendance (4310 in 2011 compared to 3115 in 2010).
"lunch! is a great show that has really gone from strength to strength since its launch," says buyer Daniel Buckland from leading foodservice wholesale distributor 3663. "It's much more than just a trade show, as well as great guest speakers the innovation really sets it apart from its competition."
It's a sentiment echoed by many of lunch!'s returning visitors, including Andrew Sherick, foods buyer at Marks & Spencer: "lunch! is an essential date in my diary. It's a great opportunity to bring together the whole of our industry and see what's new, as well as meet some truly innovative suppliers. Each year the show gets bigger and better."
It is this focus on innovation – frequently cited by visitors as a key draw for attending – that has also fuelled the show's rapid 50% expansion in Innovation Zone exhibitors for 2012. Specifically designed to promote companies within their first few years of trading, the lunch! Innovation Zone, which enjoys a prominent position at the front of the show this year, offers a unique proposition for smaller suppliers and emerging start ups looking to meet professional food and drink buyers from all the major contract caterers, supermarkets, high street chains and independents.
Innovation Zone participants for 2012, include The Botanical Drinks Co, creators of Lull – a sparkling fruit and botanical relaxation drink; organic importers Melia Foods LLP; MUNE, who recently added MUNE Healthy Water and MUNE Healthy Water Revive to its daily immune boost range; ProperCorn, with its gourmet flavoured popcorn range; Go Coco Coconut Water; Peter Popples Popcorn; 100% pure fruit snacks supplier Annie's – Food You Trust; Taste The Med, with its new Chillesa dip; Serbian Natural Foods, UK distributor of Foodland's natural fruit juices, preserves and spreads; Trumi, with its vegetarian, healthy snack bars; gluten and wheat free artisan bakers WAGfree; Cardiff-based The Chocolate Brownie Co; NISI'S Artisan Bakery, with its range of Italian biscuits; Awfully Posh Snacks, creators of award-winning pork crackling; specialist tea brand CharBrew; British charcuterie snack supplier Serious Pig; Pourtoi Artisan Chocolatiers, with its handmade, dairy and gluten free artisan cookies and chocolates; and packaging company P4CK Design.
There'll also be plenty of opportunity for visitors to talk 'innovation' with some of this industry's best known suppliers, including catering disposables specialist Kavis; chilled distribution company Simple Simon Foods; Tri-Star Packaging; soup experts The Yorkshire Provender; Mobo Innovations, a leading provider of EPOS Systems; Delice de France; Discovery Foods; leading independent coffee roaster Matthew Algie; The Food Doctor; Cornish pasty specialists Crantock Bakery; interior designers and furnishers ABDA Design; Gadsby, wholesale supplier of wicker baskets and hampers; specialist wholesaler Café Deli; leading independent foodservice supplier kff; label specialists Planglow; Sabert Europe, specialist suppliers of upscale food/bakery presentation products; Tudor Coffee; Orexis Fresh Foods; More Food supplied by Southover Food Company; Irish crisps and popcorn manufacturer Tayto, and Italian espresso specialist Kimbo UK.
"We look forward to lunch!" explains Angus Mckenzie, managing director at Kimbo UK. "It has a boutique feel but perhaps most significantly you can tell by the face of visitors that they are enjoying the show."
As in previous years, lively Keynote sessions and demonstrations will run alongside the central exhibition in the Magrini-sponsored Working lunch! Theatre, with full programme details to be announced over the coming months. Other key highlights include the live British Smoothie Championships (also sponsored by Magrini), the return of the Innovation Challenge Live!, and the Innovation Challenge Showcase.
lunch! will take place at the Business Design Centre, Islington, London, on 20-21 September 2012. For further information and to register for a free trade pass, please visit http://www.lunchshow.co.uk.
Media enquiries to:
Emma-Louise Jones, PR Manager
t: +44 (0)1273 645134
mailto:ejones (at) divcom.co.uk
http://twitter.com/DiversifiedUK
lunch! exhibitor enquiries to:
Chris Brazier, Event Manager
t: +44 (0)1273 645123
mailto:cbrazier (at) divcom.co.uk
http://twitter.com/lunchexhibition
Notes:

In July 2011, lunch! won Best UK Trade Show Exhibition (Under 2,000m2) at the Association of Event Organisers (AEO) Excellence Awards for the second year running.
lunch! is the UK's only dedicated trade show for the UK's out of home food and drink market. lunch! 2012 will feature over 225 exhibitors showcasing a distinctive array of products, services and technologies to thousands of speciality buyers from all the major food-to-go chains, supermarkets, contract caterers, wholesalers, distributors, and quality independents.
Website: http://www.lunchshow.co.uk
LinkedIn: http://www.linkedin.com/groups?gid=3143327&mostPopular=&trk=tyah
Twitter: http://twitter.com/lunchexhibition
Facebook: http://www.facebook.com/pages/lunch/106355532742317
Diversified Business Communications UK Ltd (Diversified UK) is a fast growing trade event organiser and publisher based in Brighton. In addition to lunch!, Diversified UK's portfolio includes Natural & Organic Products Europe, Natural Products Scandinavia, camexpo, office*, office INTERIORS, the Service Desk & IT Support Show, Natural Products magazine and the Natural Beauty Yearbook.