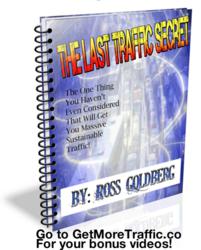 Cape Coral, FL (PRWEB) May 23, 2012
The Get More Traffic Report is designed to expose the things website owners need to do for their websites to get more visitors. From stories of best and worst case situations to actual "do this" type instruction, the report will reveal to the main thing that has been missing from their businesses. Over the 27 pages of the report, Ross Goldberg covers video marketing, podcasting, how to get affiliates, and much more. Readers also get access to a special four video "Get More Traffic" series that will show how to get even more traffic from things they should already be doing.
Get More Traffic is unique because of the author. Ross Goldberg has been in the "trenches" actually doing the things he teaches in the report. It's important to him that he only teaches things he knows to work, to ensure anyone attempting to learn more about reaching their audience can get similar results.
With all of the low quality, 99 cent reports hitting the Kindle, Ross wanted to do something special for his audience and is going to be giving the report away for free to celebrate the report arriving in the Kindle library from May 23rd through May 27th.
The Get More Traffic Report is available on Amazon.
Ross Goldberg is the owner of Immortal Internet Marketing. Over the last six years he has trained thousands of people and helped them find new ways to reach their potential customers.
Contact:
Ross Goldberg
Immortal Internet Marketing
1242 SW Pine Island Rd. Ste. 42-301
Cape Coral, FL 33991
http://getmoretraffic.co
800-274-5815