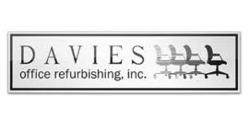 "Incorporating the requirements of BIFMA level certification into our remanufacturing processes was a logical step for an organization that has viewed being green as the foundation of our business," commented company president, Bill Davies
Albany, NY (PRWEB) May 23, 2012
Reflecting its long-time leadership position on sustainability and green office practices, Albany, NY- based Davies Office Refurbishing, Inc. has become the first office remanufacturer ever to earn level™ Sustainability Certification from the Business and Institutional Furniture Manufacturers Association (BIFMA). Davies first earned level™ Certification for its remanufactured Avenir and System 9000 panel system lines. Today they announced they have become level certified for the Herman Miller Ethospace panel system line.
"The Herman Miller Ethospace panel is the first frame-and-tile system providing a strong foundation and good deal of flexibility for office panel systems. Now, companies that have or want Herman Miller Ethospace panel systems can turn to Davies Office to repurpose existing product instead of having to purchase new, all while being assured that their product has met the rigorous sustainability standard," commented Bill Davies, president of Davies Office.
"Davies Office is now offering clients three green choices in office panel systems that are level certified. This is all part of the continued commitment Davies Office has for environmental- responsibility. As a leading proponent of the sustainability movement for nearly half a century, Davies is proud to help companies create high-performance workspace solutions with significant economic and environmental benefits."
ABOUT DAVIES OFFICE — Davies Office is a nationally recognized leader in green remanufacturing and expert in sustainable office furniture solutions. Founded in 1948, Davies Office today has become the largest office furniture remanufacturer in the United States specializing in asset recovery and redeployment, high-performance workspace solutions, and comprehensive project management from planning through installation. For more information, visit http://www.daviesoffice.com or call 518 449-2040.